Hotel Fuerstenhof
From: Leipzig, Germany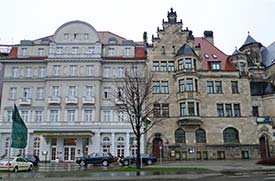 ABOVE: The Hotel Fuerstenhof is the cream-and-white building on the left. INSET BELOW: A courtyard view from a room on the top floor, an armoire, a bathroom, and the hotel's breakfast buffet.



By Durant Imboden
The Hotel Fuerstenhof is a Luxury Collection hotel from Starwood, which operates such properties as the Danieli and Gritti Palace in Venice, the Bristol in Vienna, the Goldener Hirsch in Salzburg, and Weimar's Hotel Elephant. It occupies a large 18th Century banker's mansion on the Tröndlinring, a few blocks west of the main railroad station and the tourist office on the edge of the downtown sightseeing, shopping, and museum district.
Because the building is historic, rooms vary considerably: During my stay, I had a smallish top-floor room with a large bathroom, while a colleague had a large room with a small bath.
Prices of the 92 rooms and suites also vary, with rack rates ranging from €121 for a "classic" single or double to €165 for a "grand deluxe" double to €240 for a junior suite when this article was written in late April, 2009. These rates are surprisingly reasonable by European big-city standards, bringing the cost of a luxury hotel within range of upper-middle-class travel budgets.

The Hotel Fuerstenhof has several restaurants and bars, including the Restaurant Villers (dinner only, with an extensive wine list) and the Vinothek 1770 (wine bar with antipasti and other snacks). The hotel also serves a generous (though pricey) buffet breakfast.
Other amenities include a spa with pool and an extra-cost parking garage around the corner.
Tip: If you have the opportunity to choose between a courtyard room and a room facing the street, go for the courtyard: Your room will be quieter, and you'll see the back of a church instead of a busy ring road.
For more information, or to check current rates, visit Starwood's Hotel Fuerstenhof Leipzig Web pages.
Back to: Leipzig, Germany