Lübeck Photos
From: Lübeck, Germany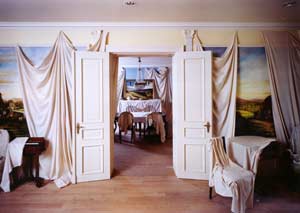 Buddenbrookhaus
The Heinrich und Thomas Mann Zentrum has two permanent exhibits: one devoted to the lives of the two authors (including their time in California), and the other about the novel Buddenbrooks. The room above is decorated to show a scene from the novel where the family has sold the house and is about to move. Furniture that will stay in the house is covered with drapes; items to be moved are marked with tags. The museum's curators have very cleverly keyed the tags to descriptions in Buddenbrooks, copies of which are available in several languages (including English) as you enter the room.
During much of the year, Buddenbrookhaus and the nearby Günter Grass-Haus offer literary walks with German-speaking guides. If you understand German and plan a visit during the Christmas season, inquire about "Weihnachten bei den Buddenbrooks -- Auf den Spuren Thomas Manns." The four-hour evening event includes a snack, a reading from the novel, a guided literary walking tour through Lübeck (with a few surprises along the way), and a buffet dinner.
For more information on guided walks and other events, see the "Programm" calendar at www.buddenbrookhaus.de.
Important: Although Buddenbrookhaus Web site is in German only, the museum itself has many English-language captions and displays.
---
---
---
---
Photo: Kulturstiftung Hansestadt Lübeck.