Sightseeing

Lübeck's sights are mostly within the Historische Altstadt, or historic old town. The best way to see them is to go walking. Start by purchasing an inexpensive pocket-size Town Map at the Welcome Center next to the Holstentor (see our Tourist Information page). The map is available in English or German, and it unfolds to reveal a clearly marked Town Walk that begins at the Holstentor and ends up (nearly two dozen stops later) at the historic Rathaus, or City Hall, and the 200-year-old Niederegger confectioner's shop and café.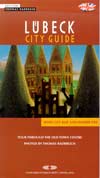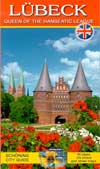 Along the way, you'll visit Lübeck's historic churches, including the Marienkirche (the world's tallest brick church) and the Petrikirche, where you can ride an elevator up to a viewing platform 50 meters or 164 feet above the city's rooftops. Other noteworthy points on the walk include the Dom (cathedral), the Burgtor (a medieval gate in the northwestern corner of the old town), the Schiffergesellschaft (see our Restaurants page), the Hospital of the Holy Ghost, the Museum Harbor with its vintage sailing ships, and other museums in Lübeck.
Don't miss the Gänge, or pedestrian passages, which make Lübeck's Altstadt so unique. (Walking down a street of brick-faced houses, you might never guess that residential corridors and courtyards with trees, potted plants, benches, and tiny cottages are tucked behind the façades.)

If you're staying more than a day or so, consider buying an an English-language guidebook (shown above). Two locally published guides complement each other well: Thomas Radbruch's Luebeck City Guide has better photos, while Schöning's Lübeck: Queen of the Hanseatic League has more text. The Hansestadt Lübeck Historische Altstadt map and the Lübeck Luftsbildplan (an aerial-photo map) are other useful souvenirs. For these and other printed materials, check the tourist office's Welcome Center and the excellent Weiland bookstore in Königstrasse.
Tours
The tourist office's Welcome Center offers guided walking tours year-round, with the schedule depending on the season. Harbor, river, and lake excursions are also fun; see the Boat section of our Transportation page for Web links.