Lübeck Photos
From: Lübeck, Germany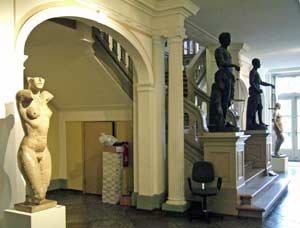 Behnhaus / Drägerhaus
The Museum Behnhaus/Drägerhaus consists of two connected houses in the Königstrasse, where many of Lübeck's rich and influential citizens built homes in the late 18th and early 19th centuries.
Behnhaus is a merchant's house that was built between 1779-1782. (You can see its entrance hall in the top photo.) Upstairs is a collection of 19th and 20th Century paintings.
Next door, Drägerhaus has rooms from the mid-19th Century, including the ballroom and its Dresden stove that you'll see in the smaller photos above.
---
---
---
---