Lübeck Photos
From: Lübeck, Germany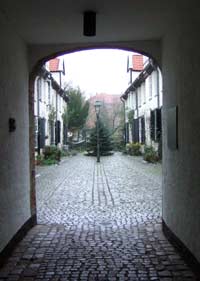 Glansdorps Hof
An arched entrance tunnel with an iron gate leads into Glansdorps Hof, which is still a senior citizens' community after 400 years.
Please note that the courtyard is open to the public only in the mornings and late afternoons, to keep the residents from being disturbed by tourists during lunch. (If you show up at midday and the gate is locked, come back at 3 p.m.)
After you've looked around, turn left inside the compound for the neighboring courtyard of Glansdorps Gang.
---
---
---
---