Bernabéu Stadium Tour
Real Madrid CF
From: Madrid, Spain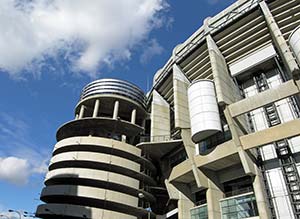 ABOVE: Estadió Santiago Bernabéu has towers at each corner. Glass elevators (tracks on the right side of picture) give quick access to the top level, with panoramic views during the 16-story ascent.
By Durant Imboden
In the world of fútbol, Real Madrid CF is Spain's counterpart to the New York Yankees. Real Madrid (Spanish for "Royal Madrid") is a perennial first-division team of the Spanish Professional Football League, with a history dating back to March, 1902, when it was founded as the "Madrid Foot Ball Club" with an English coach and uniforms modeled on those of the London Corinthians.
Over the last century, Real Madrid has won 29 Spanish League championships and nine European Cup/Champions League trophies, and it boasts of being the only club to hold a permanent European Cup trophy after winning the cup five consecutive times.
Some sportswriters have called Real Madrid "the best football team in the world," and whether or one accepts that judgment, it's hard not to be impressed by the club's statistics--and by the chance to visit its 80,000-seat Estadió Santiago Bernabéu, which is open for self-guided tours year-round. Your ticket includes a visit to the club's museum of photos, trophies, and other club memorabilia.

When to visit: Bernabéu's opening hours vary with the season--usually 10 a.m. to 7:30 p.m. on Tuesdays through Saturday or 10:30 a.m. to 6:30 p.m. on Sundays and holidays. Some parts of the stadium are off-limits on match days, so we'd suggest visiting on a day when no play is scheduled.
Where to go: The stadium is on the Paseo de la Castellana, north of Madrid's historic center. It's easy to reach by Metro Line 10 (Santiago Bernabéu station), by public bus, or on certain "hop on, hop off" sightseeing buses.
What you'll pay: Tickets were dreadfully overpriced at €25 for adults and €18 for kids the last time we checked, but if you have the Madrid City Pass, your ticket will be free.
For more information, visit Real Madrid's English-language Stadium Tour page. And to get an idea of what you'll see during the tour, click through to our Bernabéu Stadium photo gallery.