Europe > Germany > Munich > Airport > Airport Center > Shops
München Airport Center
Page 5
Continued from page 4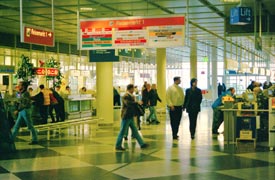 ABOVE: Passengers and locals mingle at München Airport Center.
Shops and shopping
Munich Airport Center has dozens of shops that sell everything from clothes and jewelry to groceries.
In the "Lebensmittel" category alone, MAC offers five choices--including a supermarket that offers a good assortment of German and Swiss chocolates. (If you prefer handmade designer chocolates, try the Elly Seidl shop next door.)
International name brands such as Benetton, Hugo Boss, and The Body Shop make an appearance at MAC, while stores like "Buyern" (a word play on "Bayern," the German name for Bavaria) offer gifts and souvenirs with a local flavor.
Tired of renting cars, only to return them? Head upstairs to the Audi showroom, then step next door to ogle a Lamborghini.