Europe > Germany > Munich > Airport > Airport Center > Reisemarkt
München Airport Center
Page 6
Continued from page 5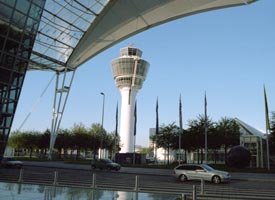 ABOVE: It's only a short walk from the consolidators' desks in MAC's Reisemarkt to the flight terminals at Munich International Airport.
Travel Market (Reisemarkt)
You've probably heard of travel consolidators or "bucket shops" in London, but Munich also has its share--and most of them are in the Reisemarkt or Travel Market at München Airport Center.
Here, at long counters within baggage-cart distance of the check-in desks at Munich International Airport, you can get tickets or all-inclusive packages from dozens of travel agents and tour operators. Some of the agencies specialize in last-minute deals that are worth investigating if your vacation schedule is flexible.