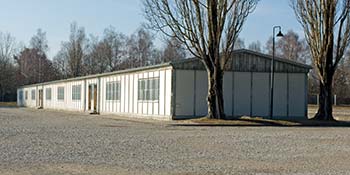 Most prisoners lived in the camp's accommodations barracks or bunkhouses, which were arranged in two rows alongside the camp road. (The road, which was planted with populars, was the main recreation area for prisoners during their limited free time.)
The old, crumbling barracks were torn down in 1964, after serving as postwar refugee housing. One building has been reconstructed with interior furnishings from three periods: 1933-1938, 1938-1944, and 1944-1945.
---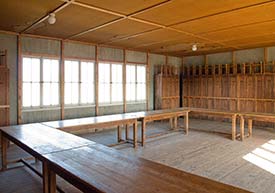 This 1938 common room shows the tables where the prisoners ate their skimpy meals. You can also see wooden lockers along the back wall.
---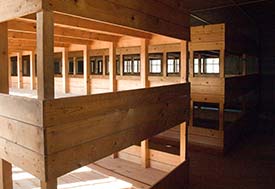 As the camp became more crowded, rows of individual bunk beds were replaced by group bunks. This reconstruction shows what the prisoners' sleeping quarters looked like in 1944.
---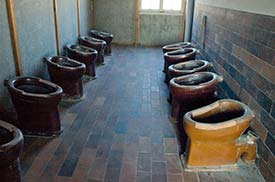 Sanitation may have been adequate in 1933, when the barracks were built to accommodate 200 prisoners each, but by the end of the war, each building held up to 2,000 inmates. Many prisoners died of diseases, especially during a 1943 typus epidemic that killed at least 1,000.
Overcrowding persisted for several years after World War II, when Dachau was a U.S. Army prison camp for German POWs. Later, the barracks were converted into refugee quarters, where several thousand ethnic Germans from the Sudetenland lived until work began on the KZ-Gedenkstätte or memorial site in 1964.
Odd sighting: During my visit, I noticed coins in the fountain-like sink at right. (Is it human nature to throw coins into anything that looks like a fountain, even if it's an industrial sink without water in a former concentration camp?)