Entering the camp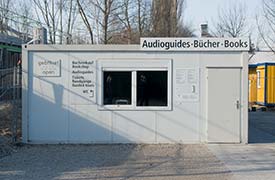 As you leave the bus stop, you'll pass a small building where you can buy books, rent an audioguide, sign up for a guided tour, or use the WCs. (More toilets are in the Exhibition building within the camp.)

In the not-too-distant future--perhaps by the time you read this article--this prefab building will have been replaced by a modern visitor center and café.
Near the KZ entrance, you'll see a bronze plaque that commemorates the liberation of the camp by the U.S. Army's 20th Armored Division on April 29, 1945.
---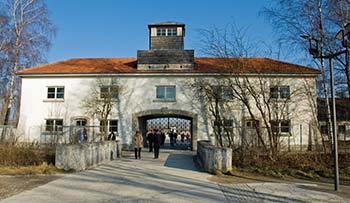 The only entrance to the concentration camp is through the Jourhaus, or guardhouse, where you'll see the motto "Arbeit macht frei" on the wrought-iron gate beneath the archway.
---

As you enter the camp through the Jourhaus, you'll notice the former maintenance building (right) that housed the camp's kitchen, clothing department, workshops, and baths. The roll-call area, where prisoners were counted each morning and evening, was in front of the maintenance building.
---

Most of the camp's dilapidated buildings were torn down before 1965, when the Concentration Camp Memorial Site was opened, but you can get an overview of what the World War II camp and its neighboring SS facilities looked like in this model from the Exhibition (see next page).
The concentration camp is at the top of the photo, where you can see the two rows of barracks blocks to the left of the roll-call area.
The foundations of the old barracks remain, and beyond them are three memorials: the Catholic Mortal Agony of Christ Chapel (built in 1960), the Carmelite Holy Blood Convent (1064), the Jewish Memorial (1967) and the Protestant Church of Reconciliation (1967). A fourth memorial, the Russian Orthodox Chapel, was built outside the walls, near the crematorium, in 1995.