Choco-Story:
Paris Chocolate Museum
Le musée gourmand du Chocolat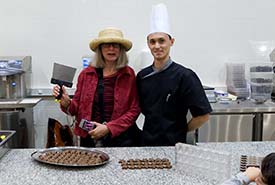 ABOVE: Cheryl Imboden poses with Choco-Story's resident chocolatier after a chocolate-molding demonstration.
By Durant Imboden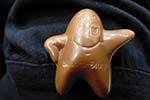 For most visitors to Paris, the word "museum" is a synonym for "Louvre", "Centre Pompidou," or "Musée d'Orsay." But there are many small museums in Paris that also deserve a tourist's attention, such as le musée des Égouts de Paris (Paris Sewers Museum) and--more appetizingly--Choco-Story, also known as le musée gourmand du Chocolat or the Gourmet Chocolate Museum.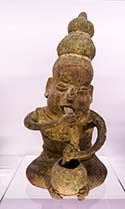 Choco-Story Paris is the third in a series of private chocolate museums operated by the Van Belle family of Erembodegem, Belgium, who launched a Bruges museum in 2004 and a Prague branch in 2008.
The Paris version of Choco-Story opened in 2010 and is sponsored by Belcolade, the second-largest Belgian manufacturer of chocolates for the professional market. (Belcolade's products are widely used by French chocolatiers, bakers, and pastry chefs.)
Choco-Story occupies three floors of a building on the Boulevard Bonne Nouvelle, one of the Grands Boulevards in central Paris. It's made up of three sections:
The first section traces the history of cocoa (going back to the Mayan and Aztec eras). It also introduces the cocoa tree and the fundamental principles of chocolate-making.

The second section covers the development of chocolate in Europe, from the importation of the first cacao beans into Spain in 1527 to the industrialization of chocolate-making in the 19th and 20th Centuries. Exhibits range from antique chocolate cups to modern machinery.

The third part of the museum features temporary exhibitions and a Demonstration Center where visitors can watch chocolates being made, with fresh samples to eat and enjoy

.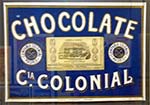 The museum has a collection of more than 1,000 objects, many of them chosen personally by Eddy Van Belle, the patriarch of the Van Belle chocolate-making clan. Choco-Story also sponsors the international Cocoa Development Fund, which supports cocoa farmers and chocolate cooperatives in developing countries.
Visitor information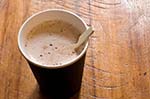 Choco-Story is open daily from 10 a.m. until 6 p.m. (last entrance at 5 p.m.) The price of admission isn't cheap, but it does include a chocolate sample, and you can easily spend a couple of hours in the museum--or longer, if you can't resist buying a cup of hot chocolate in the gift shop and bookstore.
For detailed information, including ticket prices and how to reach Choco-Story, visit the museum's Web site at www.museeduchocolat.fr.
To see photos of the museum (including the chocolate-molding demonstration with samples), continue to page 2 of this article.
Next page: Museum photos
---
---
---