Paris > Sightseeing > FlyView
FlyView 'Fly Over Paris'
When it's raining, or if you're traveling with kids, a flight over Paris by virtual jetpack is an enjoyable (if pricey) way to see the sights.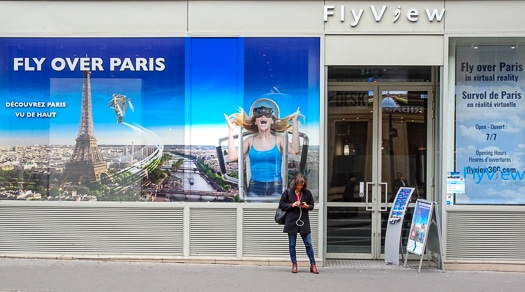 ABOVE: FlyView, or "Fly Over Paris," is on the Rue du 4 Septembre by the Place de l'Opéra.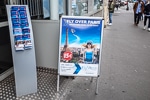 Sometimes it's fun to scrub away your serious face and do something touristy--especially if it's raining or you're traveling with children who have had their fill of monuments and museums. A good example of "something touristy" is FlyView, a.k.a. Fly Over Paris, a virtual-reality experience that lets you soar over Parisian landmarks in an imaginary jetpack.
FlyView takes a refreshingly tongue-in-cheek approach to its VR ride, treating it as a real flight--complete with control-tower monitors in the lobby and a sign that reads "Departures."
What to expect during your visit: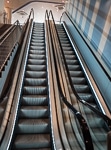 After you buy your ticket, you're escorted downstairs at the appointed flight time and are led into one of several rooms. The room is lined with "jetpacks," which are tubular frames with footplates. You step onto a footplate and strap yourself into the tubular frame.
Next, you put on a freshly-sterilized virtual-reality headset, with help from an attendant if you're new to the world of VR.
Soon, after a short countdown, you're blasting up through the building and out into the Parisian skies, where you'll enjoy a drone's-eye view of the city's most popular sights.
Your virtual jetpack tour lasts 13 minutes, or 18 minutes if you've purchased the "World Bonus" ticket that includes aerial views of the Great Wall of China, Victoria Falls, and a few other international landmarks. When we bought FlyView tickets on a quiet day in September, there weren't enough visitors for a Paris-only flight, so everyone got the "World Bonus" free.
Our take on the FlyView experience:
The flight is enjoyable but not intense. Vibration and other special effects provide a touch of realism but aren't likely to upset your stomach. If you discover that you lack a head for virtual heights, you can simply take off the headset and return to earth.

The resolution of the VR headsets seems a bit coarse by the latest 4K standards. Maybe the FlyView imagery will be updated by the time you read this.

We would have liked another five or 10 minutes over Paris. The Butte of Montmartre and Sacré-Coeur would be great additions to the show.

Tickets are fairly expensive, although a "Family Pack" (two adults, two kids) can reduce the cost per person. FlyView also has package deals that include tickets to Seine sightseeing boats, an open-air "hop on, hop off" bus tour, and the Grévin wax museum. Tip: Decline the underwhelming "World Bonus" add-on unless you're getting it free.
FlyView visitor information:
FlyView "Fly Over Paris" is open seven days a week at 30 Rue du 4 Septembre, near the southeastern corner of the Place de l'Opéra. The closest Métro stop is Opéra on Lines 3, 7, and 8.
For more information--including ticket prices, a map, and business hours--visit FlyView360.com. (Tickets are available online or in person at the FlyView ticket desk.)
More photos:
The FlyView lobby includes a ticket desk, a shop, toilets, and lockers where you can store your backpack or shopping bag.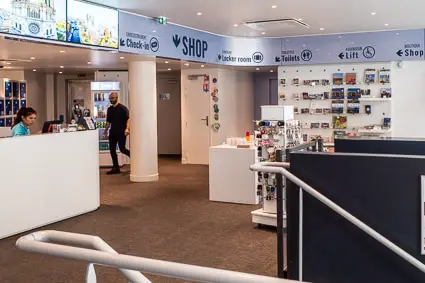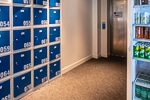 ---
Closed-circuit video displays in the lobby show what to expect during your pretend "flight." You'll emerge from a chute in the building and fly toward Parisian landmarks in your jetpack while a staff of controllers monitor your progress.
---
A "flight map" shows what you'll be seeing: the Arc de Triomphe, the Avenue des Champs Élysées, the Place de la Concorde, the Pont des Arts and the Seine, the Cathedral of Notre-Dame de Paris (pre-fire), and the Eiffel Tower.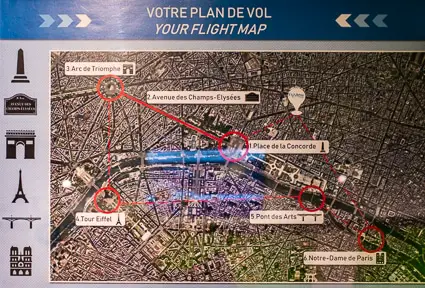 ---
When it's time for your flight (as shown on the monitor at the top of the escalator), you'll be led downstairs for boarding.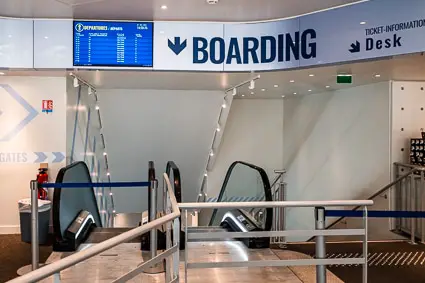 ---
These two murals (only the geezer with the camera is real) provide an aspirational view of your "flight."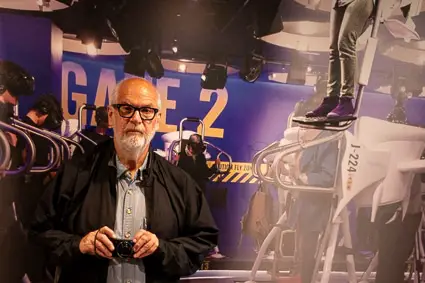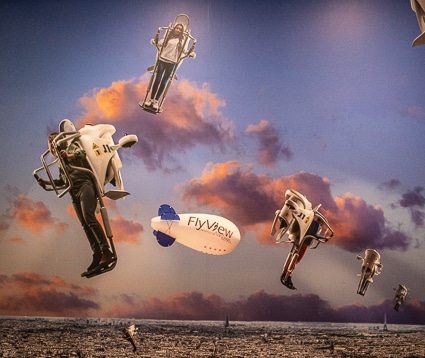 ---
After the flight, you'll be discharged into a photography area where you can take snapshots with props, using your own camera or FlyView's digital cameras. (With the latter, you can e-mail pictures to yourself for free or buy inexpensive prints.)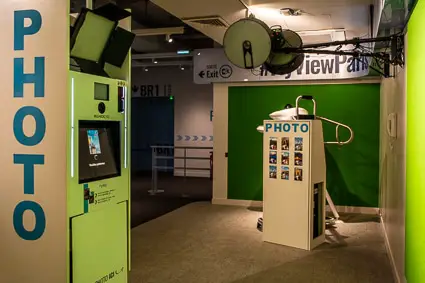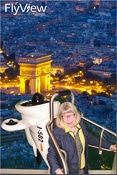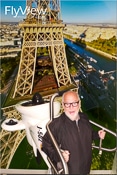 ---
After you've taken your souvenir pictures, you can head upstairs and make the transition from a virtual world to the street outside.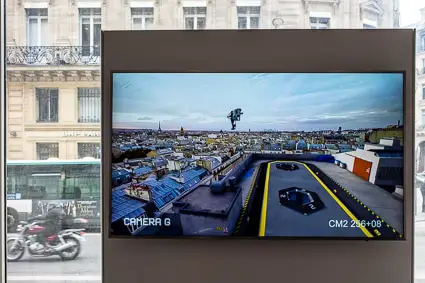 ---
---