Paris > Sightseeing > Lost in Frenchlation
Lost in Frenchlation
See new French movies with English subtitles in Paris (and meet people in the bargain).
Visiting Paris without seeing a French movie is like visiting Seville without attending a flamenco show. Unfortunately, movies have one big disadvantage over dance: If they're in French and you aren't a Francophone, you'll spend a lot of time trying to figure out the plot while waiting for the nude scenes.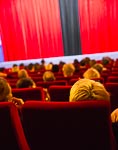 Spoiler alert: Lost in Frenchlation has already come to your rescue. Nearly every week throughout the year, Lost in Frenchlation screens a French movie with English subtitles at one of "three iconic art-house Parisian cinemas":
Club de L'Étoile Champs Élysées
Luminor Hôtel de Ville
Studio 28 Montmartre
The screenings feature recent movies (typically films released in the preceding three or four weeks), with a social hour beforehand that offers drinks and snacks.
On average, 150 people attend the shows. The founders of Lost in Frenchlation, Manon and Matt, report that their audience is a "healthy mix of ages" drawn from three English-speaking groups: tourists, expats, and foreign students.
For more information, including upcoming movies and screening dates, visit the organization's Web site at www.lostinfrenchlation.com.
---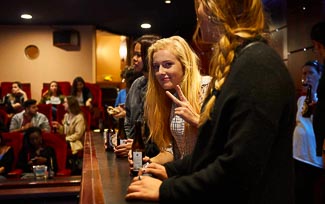 ---