Paris > Sightseeing > Patesserie Tours
Archived article
Patisserie Tours in Paris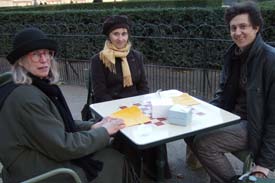 ABOVE: Cheryl Imboden enjoys a pastry break with Laurence Monclard of Meeting the French and gastronomic guide Ludovic Roif. INSET BELOW: Macaroons at Pierre Hermé, Pierre Marcolini chocolates, and Japanese-inspired French pastries (some flavored with green tea) at Sadaharu Aoki.
---
Paris is, without doubt, the world capital of pastry-making. The city is awash in pastries, from the humble breakfast croissant to elaborate confections prepared by famous pastry chefs who vie for medals at international Pâtisserie competitions.
In an urban landscape where pastry shops and bakeries outnumber parking lots, how does the visiting food aficionado distinguish between workaday pastries (delightful though they may be) and the crème de la crème anglaise? The answer is simple: Book a Chocolate & Pastry Food Tour with Meeting the French, a Paris-based firm that promotes international understanding through gastronomy. That's what we did a while back, and here's a report:
Our tour experience

At the beginning of our tour in late November, we met our guide, Ludovic Roif, outside the Pasteur Métro station on the Left Bank. (Ludovic, a former Internet executive who has lived in England, is the founder of Goût en Scène, a firm that organizes gastronomic events in and around Paris.)

Over the next several hours, Ludovic took us to some of the top pastry and chocolate shops of Paris, where we learned about the proprietors, their philosophies, and their contributions to the Parisian dessert scene.
Along the way, we acquired samples of delectables that we might not have discovered or been adventurous enough to try on our own--from the subtle green tea-flavored éclairs of Sadaharu Aoki to the jewel-like macaroons at Pierre Hermé and the world-championship chocolates of Patrick Roger (including dark chocolate enriched with oat flour, which intensifies the chocolate's flavor).
We also stopped in at Poilane's original 6th Arrondissement location--possibly the world's most celebrated bread bakery--where we were allowed a peek at the wood-fired oven in the boulangerie's ancient cellar.
Our tour ended with an unscheduled visit to Stohrer, in rue Montorgueil on the Right Bank, which has been making pastries since 1730. As a going-away gift, Ludovic Roif gave us a list of more than three dozen recommended pastry and chocolate shops that we could visit on our own.
All in all, the Chocolate & Pastry Food Tour was delightful, and we recommend it to anyone who enjoys fine pastries and chocolates.
Chocolate & Pastry Food Tour tips:
The Chocolate & Pastry Tour is limited to eight participants, so the price isn't cheap. (On the other hand, it's no higher than you'd pay for any semiprivate walking tour with a professional guide.)

The itinerary may vary from week to week, because the organizers don't want to wear out their welcome by visiting the same shops constantly. They also want to show you the latest and greatest collections from the top pâtissiers and chocolatiers in Paris. (Guides may change, too, but you can be sure that your guide will be a connoisseur of the Parisian patisserie scene.)

Transportation is on foot, by bus, and by Métro. (Bring a carnet of Métro tickets or a Paris Visite card with you; you'll need them during the tour.)

For more information on gastronomic tours, visit Meetingthefrench.com.
---
---
About the author:

Durant Imboden is a professional travel writer, book author, and editor who focuses on European cities and transportation.
After 4-1/2 years of covering European travel topics for About.com, Durant and Cheryl Imboden co-founded Europe for Visitors (including Paris for Visitors) in 2001. The site has earned "Best of the Web" honors from Forbes and The Washington Post.
For more information, see About our site, press clippings, and reader testimonials.
---