Europe > Switzerland > Beatenberg
Beatenberg, Switzerland
Fresh mountain air, hiking, and skiing attract visitors to this mini-resort overlooking Lake Thun in the Bernese Oberland.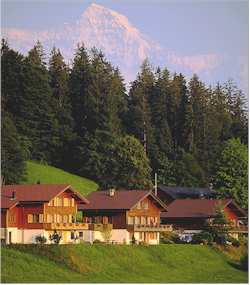 ABOVE: Chalets in Beatenberg, above Lake Thun.
A century ago, the hillside village of Beatenberg, near Interlaken, was a health resort frequented by tuberculosis patients who came for the fresh, crystalline air. Even now, the village has two private health clinics, although most of today's visitors favor hiking or skiing.
Beatenberg has some 30 km (20 miles) of marked walking paths in the immediate neighborhood, and skiers of all levels can make advantage of five lifts serving ten pistes--including a chairlift to the summit ridge of the Niederhorn, 6445 feet or 1950 meters above Lake Thun.
If you're looking for a taste of the "real Switzerland" within commuting distance of Interlaken, Beatenberg is worth investigating. The village has nearly a dozen hotels and guesthouses, from the imaginatively modern Dorint Hotel Blüemlisalp to the Naturfreundhaus (Friends of Nature) hostel and the Berghaus Niederhorn at the upper station of the Niederhorn chairlift. Vacation apartments are another option.
In addition to hiking, you can enjoy paragliding from Beatenberg or the Niederhorn--an activity that offers wonderful views of the Thunersee-Interlaken-Jungfrau region, although it's not for tourists with faint hearts or thin wallets.
Even if you don't stay in Beatenberg, it makes a pleasant excursion from Interlaken or Thun. And for visitors who aren't carrying much luggage, it's also a pleasant side trip on a journey from Bern to Interlaken.
Related articles and Web links
General information
Wikipedia: Beatenberg
The online encyclopedia covers the basics with historical, geographic, and demographic information.
Beatenberg, Bernese Oberland
Switzerland Tourism provides a good introduction to the "sun terrace of the Bernese Oberland."
Transportation
Niederhorn.ch
Visitors to Beatenberg's "house mountain" can take a funicular from Beatenbucht (on Lake Thun) to Beatenberg, followed by an aerial cable car from Beatenberg to the mountain's summit. The Niederhorn Web site also has information about summer and winter sports.
PostBus: Beatenberg Route
This page describes Swiss Postal Bus service between Interlaken-West and Beatenberg.
Accommodations
Booking.com: Beatenberg our partner
Our secure booking partner is also Europe's largest hotel site. Its detailed listings include photos, ratings, and reviews by paying guests.
Hubelhuus Beatenberg
If you're hosting a group, you might inquire about renting this house from the YMCA.
Adventure activities
Paragliding Interlaken
This Interlaken-based adventure company will drive you to Beatenberg, where you'll paraglide from a location that overlooks Lake Thun.
Related articles
Interlaken europeforvisitors.com
This article has links to tourism, hotel, transportation, entertainment, sports, and other Web sites for Interlaken and the Jungfrau region.