Glacier Express
"The world's slowest express train" travels between Zermatt and St. Moritz, Switzerland, offering spectacular alpine views during its 7½-hour journey.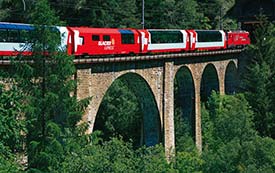 ABOVE: The Glacier Express crosses one of the 291 bridges between Zermatt and St. Moritz.
By Durant Imboden
The Glacier Express is one of Switzerland's most famous train excursions. The Glacier Express, which has been operating since 1930, is billed as "the world's slowest express train" and averages 36 km/h (22 mph) during the approximately 7½-hour trip journey on its most popular route, Zermatt to St. Moritz or vice versa.
The 275 km miles (169 miles) of narrow-gauge track are punctuated by 291 bridges and 91 tunnels. Trains reach a peak elevation of 2,033 meters (6,670 feet) at the Oberalp Pass near Andermatt and traverse the 15-km (9.5-mile) Furka Tunnel, which takes a shortcut beneath the Alps between Andermatt and Brig.
The trains

Rolling stock varies from train to train. State-of-the-art "Glacier Express Premium" trains, which were introduced in 2006, have new panorama cars in First and Second Class (available for a higher surcharge). Other trains use conventional cars in First Class and panorama cars in Second Class.
Passengers on Glacier Express Premium trains can have meals served at seats or in the dining cars; on the standard trains, meals are served in the dining cars only, where angled-stem wineglasses help to prevent spilling during the steeper portions of the journey. All trains have Railbar carts that sell box lunches, salads, hot and cold drinks, etc. (Food and drink are not included in the fare.)
Timetable and routes

The Glacier Express used to be a summer-only train, but today it operates year-round. The summer timetable offers four trains per day; the winter schedule is more limited.
To make matters more complicated, not all Glacier Express trains go to St. Moritz. Some cover the Zermatt-Chur portion of the route, and you can also book a Glacier Express ticket between Zermatt and Davos via Chur. Consult the timetable at the Glacier Express Web site for details. (You'll find a link below.)
Tickets and rail passes
The one-way fare between Zermatt and St. Moritz was CHF 268 (first class) or CHF 152 (second class) in spring, 2019, when this article was last updated.
In addition to the fare, you'll pay a seat-reservation fee of CHF 23 (winter), CHF 33 (shoulder season), or CHF 43 (high season).
If you plan to travel elsewhere in Switzerland, you'll get a better deal by purchasing a Swiss travel pass before you leave home. Swiss rail passes cover the entire fare, except for the obligatory surcharge. (In contrast, Eurailpass is good for only about half the route, so you'll need to buy a ticket for the remaining portion.)

Note: Swiss rail passes are also good on the yellow Postal Buses, which makes it easy to explore smaller villages from either end of the journey or--if you break your trip--from intermediate stations along the line.
Travel tips
Some travelers feel that the south side of the train (the left side in the St. Moritz-Zermatt direction) offers better views, but both sides are fine.
If you dislike crowds (especially mobs of fellow tourists), skip the Glacier Express and take ordinary trains along the Glacier Express route. You won't get panoramic windows or an antique dining car, but you'll enjoy the same scenery--and you'll get a chance to stretch your legs by changing trains at several points along the way.
If you're on a tight budget, bring your own food. (At a few major stops, you'll have time to buy food from station vendors.)
First Class may be less crowded than Second Class, although that's not always true in high season. Comfort levels aren't vastly different, so don't feel that you have to pay extra for First Class.
Consider breaking your journey with an overnight stay in Chur. Seven or eight hours is a long time to sit on a train, and you may enjoy the scenery more when you spread it over two days.
Glacier Express Web links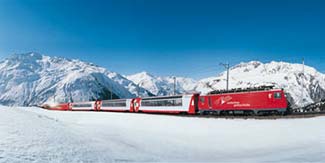 ABOVE: The Glacier Express in winter.
Glacier Express
The official site of the Glacier Express has information about the train in several languages.
Rhaetian Railway (Rhätische Bahn)
The RhB is a narrow-gauge railroad with spectacular bridges, spiral tunnels, and some of the most appealing scenery in Switzerland. The Glacier Express operates on RhB tracks between Chur and Davos or St. Moritz.
Swiss Rail Passes
Swiss Rail Passes switzerlandforvisitors.com
Save money on trains, postal buses, lake steamers, funiculars, cable cars, and local transportation with a pass from Swiss Federal Railways.
Photos copyright © Swiss Travel System.