Lake Zürich by Steamer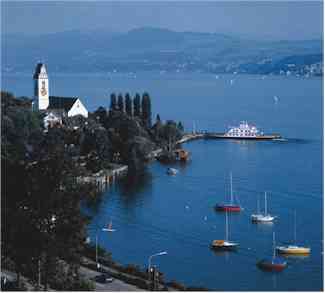 ABOVE: Meilen, on Lake Zürich.
Its official name is Zürichsee, but it's known as the Zürisee in the local Züritüütsch dialect. By any name, Lake Zürich is a delightful place to spend a day, preferably aboard a lake steamer.
Boats of the Zürichsee-Schifffahrtsgesellschaft AG, or Lake Zürich Navigation Company, operate from early April through late October on a number of routes, with a handful of boats running in winter. Summer pleasure cruises include:
Zürich-Rapperswil
Boat cruises run from the main Zürich boat landing at Bürkliplatz to Rapperswil, with one boat a day continuing to Schmerikon at the far end of the lake. Total journey time varies by route and season.
Most tourists leave the boat at Rapperswil, the "City of Roses," which is 29 km or 18 miles from Zürich. Rapperswil is an attractive town (pop. 7,700) with a restored 13th Century castle that houses Switzerland's Polish Museum. Other attractions include a rose garden, a deer park, historic civic buildings and houses, arcaded shops, an interesting town museum, and a children's zoo with elephant rides and dolphin shows. (The zoo is operated by the Knie National Circus, which is headquartered in Rapperswil.)
Our suggestion:
Take a morning ship fom Zürich to Rapperswil.
After arriving in Rapperswil, spend the rest of your day there and head back to the city on the Rapperswil-Meilen-Zürich railroad line. Trains leave Rapperswil twice an hour, arriving at the Zürich Stadelhofen railroad station 35 minutes later and at Zürich Hauptbahnhof (the main railroad station) 3 minutes after that.
If you'd rather travel both ways by steamer, you can buy a roundtrip ticket. (See next section.)
Roundtrip tickets and theme cruises
The ZSG offers a full menu of "Rundfahrten" or roundtrip excursion tickets during the summer, with durations that range from 1-1/2 to 7 hours.
In the evenings, you can select from themed "Traumschiff" or "Dream Ship" cruises year-round. For example, you could take a cruise with the theme of German Schlager (sappy vintage pop music), cheese fondue, Chinese fondue, a dinner of meats cooked on hot lava rocks, or a "singles party." The last time we checked, the company even had a "BBQ Ship" every Thursday in July and August. Lunch cruises are also available.
For more information:
Visit the official ZSG Web site, which has text in German and English, or see route 3730 in the Swiss Official Timetable.
You can also check the timetable boards or with a ticket agent at the steamer pier in Zürich, which is next to the Bürkliplatz (where the Bahnhofstrasse meets the lake).
Related articles:
Swiss Lake Steamers europeforvisitors.com
Cruise Switzerland's lakes on commuter boats and historic paddlewheelers. The boats often stop near railway stations, and you can travel free with your Swiss Pass.
Other Zürich articles europeforvisitors.com
Links to articles on Zürich's hotels, shopping, airport, and local transportation.