Mürren
| | |
| --- | --- |
| | Skiers take a break on the terrace of the Schilthorn's restaurant above Mürren. |
Mürren has a long tradition as a ski resort. It's especially popular with British skiers, who flock here for 65 km (40 miles) of prepared ski trails amid specactular mountain scenery.
Downhill racing is a mainstay of the Mürren ski scene. The first alpine ski race took place in Mürren 75 years ago, and the annual Inferno Ski Race in mid-January typically attracts more than 1,000 amateur skiers who are willing to risk life and limb on the world's longest competitive ski run. (The Schilthorn run starts at an elevation of 2,970 meters or 9,742 feet and continues some 15 km, or 9 miles, down to the valley town of Lauterbrunnen.)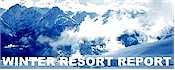 Most of Mürren's pistes are suitable for intermediate skiers. Slopes are accessible via a funicular railway, two cable cars, and seven lifts. You can buy a one-day or six-day lift ticket that's valid throughout the Jungfrau region (including 255 km or 155 miles of trails in Wengen and another 165 km or 103 miles in Grindelwald).
One caveat: Mürren is a small, traditional alpine resort that's noted more for scenery and a quiet village atmosphere than for nightlife. If you're looking for nonstop disco action between dusk and dawn, you'll be better off in a glitzier resort like Verbier.
How to reach Mürren
Mürren is a car-free resort, so it's best reached by public transportation. The usual route is by railroad from Zürich or Bern to Interlaken Ost, catching a cogwheel train to Lauterbrunnen (on the Interlaken-Wengen-Jungfraujoch railway), then taking the funicular from the Lauterbrunnen train station and changing to a train for Mürren. This sounds more complicated than it is, since the schedules of the various routes are tightly integrated and it's seldom more than a few steps from one train or funicular platform to another.
Here's a sample itinerary, which I've assembled from the train schedules in the Swiss Official Timetable. (Numbers after the station names are routes in the timetable.)
| | |
| --- | --- |
| Dep Zürich Airport 750 | 11:07 am |
| Dep Zürich Hauptbahnhof 450, 650 | 11:30 am |
| Ar Bern | 1:09 pm |
| Dep Bern 310 | 1:22 pm |
| Ar Interlaken Ost | 2:15 pm |
| Dep Interlaken Ost 311 | 2:32 pm |
| Ar Lauterbrunnen | 2:54 pm |
| Lv Lauterbrunnen 313 (funicular) | 3:02 pm |
| Lv Grütschalp (train) | 3:13 pm |
| Ar Mürren | 3:30 pm |
Note: Swiss trains run frequently, so you can take a train from your Swiss gateway airport earlier or later if this itinerary doesn't coincide with your airline's schedule. (Another option, if you're driving, is to continue through Lauterbrunnen to nearby Stechelberg, where you can park your car for about SFr 5-- per day and take the Schilthorn cable car to Mürren.)
Related Web sites
Top photo: Swiss-image.ch
Small photo copyright © Aztech PhotoCube.