Neuchâtel, Switzerland
Page 7
Continued from Page 6
More photos: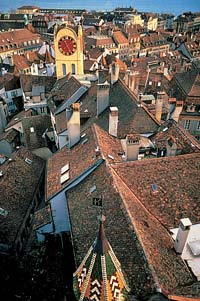 From above the old town, you get a fine view of Neuchâtel's medieval rooftops.
---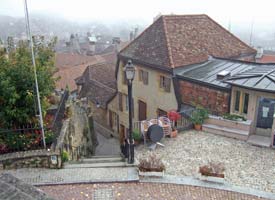 Stairs descend toward the old town from the Collegiate Church.
---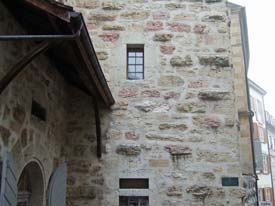 The route back to the city center passes the Tour des Prisons, or prison tower. Its base, which may date to the 10th Century, is the oldest structure in Neuchâtel. The tower has dungeons, a viewing platform, and other points of interest for visitors. (It's open daily from April through September.)
---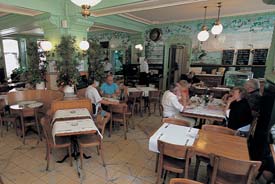 At the foot of Neuchâtel's castle, the Parisian-style Brasserie Le Cardinal offers seasonal favorites and daily specials in an historic setting.
---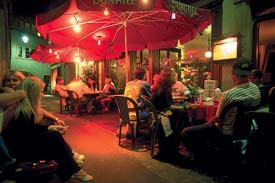 During the warmer months, outdoor cafés and bars make it easy to enjoy alfresco talking and tippling.
---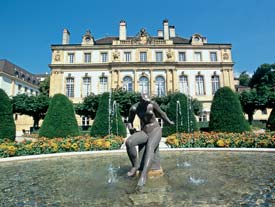 Feeling flush? The restaurant in the Hôtel DuPeyrou offers elegant food, wine, and atmosphere for prosperous gastronomes. The former mansion, which is owned by the city of Neuchâtel, was built from 1765-1770 for the financier Pierre-Alexandre DuPeyrou, who was a friend and posthumous patron of the philosopher Jean-Jacques Rousseau.
---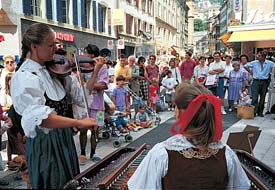 Neuchâtel often has music performances and other special events, such as this folkloric concert in the old town's pedestrian zone.
---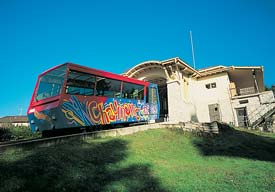 Above the town, the Funiculaire Ecluse-Plan runs from the Rue d'Ecluse runs to the Cret du Plan beldevere at 598 meters or 1962 feet above sea level.
---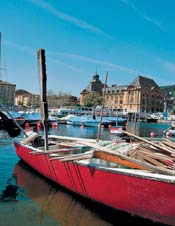 Down by the water, the Port de Neuchâtel and its boat basin attract visitors from spring through fall.
---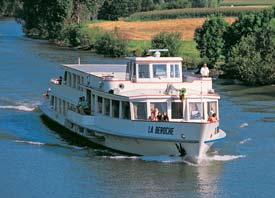 The steamer La Beroche belongs to the fleet of the Lake Neuchâtel and Morat Navigation Company, which offers excursions on the Lac du Neuchâtel and two neighboring lakes. (You can even take bicycles on the boats or use the steamers for point-to-point transportation.)
---

If you prefer shore activities to boat excursions, you can enjoy walking or bicycling along 4 km (3 miles) of lakeside quays and promenades in Neuchâtel.
---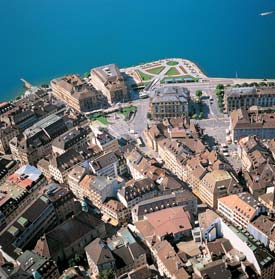 For more information about Neuchâtel, visit www.neuchateltourisme.ch.