Neuchâtel, Switzerland
Page 3
Continued from page 2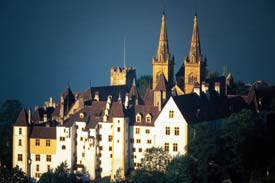 ABOVE: Neuchâtel's Château with the Collegiate Church behind.
Neuchatel tourist information
Tourisme Neuchâtelois, a.k.a. Neuchâtel Tourism, has an information office in the Hôtel des Postes, on the Place du Port by the lakefront. Its Web site is at www.neuchateltourisme.ch.
When you visit the tourist office, pick up a copy of Neuchâtel à pied - zu Fuss - on foot and the Pays de Neuchâtel Tourist Guide. If you plan to go farther afield, ask for the Watch Valley Panoramic Map, which includes a three-dimensional picture map, an overview of The Watchmaking Route, and suggested walks in the region with elevation and gradient charts. The tourist office can also sell you detailed hiking maps, cycling guides, and other materials.
Museums
Neuchâtel's Art & History Museum is worth a visit. Be sure to see the Jacquet-Droz Automatons collection, which consists of three robotic figures from the 18th Century. Also stop in at the free Galleries of History, where you can see models that show how Neuchâtel developed over the centuries.
If you're going to be in town for a few days, you can visit other attractions such as the Museum of Ethnography, the Dürrenmatt Center (for fans of the Swiss author and playwright), the Museum of Natural History, the Latenium Archaelogical Park and Museum, and the Botanical Garden.
Reaching Neuchâtel
The city of Neuchâtel is in the Swiss canton of the same name. It lies on the northern shore of Lac de Neuchâtel, which is the largest lake located entirely within the boundaries of Switzerland.
The easiest way to reach Neuchâtel is by rail. Trains are frequent, and times are short: as little as 39 minutes from Bern, 40 minutes from Lausanne, 1 hour 9 minutes from Geneva, 1 hour 28 minutes from Zürich, and only 37 minutes from the nearby watchmaking city of La Chaux-de-Fonds. Plan your trip with the online timetable of Swiss Federal Railways.
Next page: Hotels in Neuchâtel
---
---
---
---
Photo: Copyright © Tourisme Neuchâtel.