Neuchâtel, Switzerland
Page 6
Continued from page 5
Neuchâtel photos
Here and on the next page, we've provided a random assortment of captioned pictures from Neuchâtel.
Also see our illustrated articles on the Hôtel Palafitte (Switzerland's only luxury hotel built on water) and La Chaux-de-Fonds, a city in Canton Neuchâtel that's worth visiting for its architecture and watchmaking museum.
---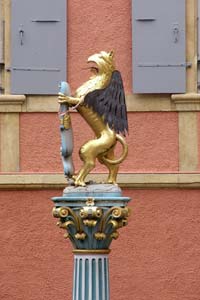 The Fontaine du Griffon was completed in 1664. Neuchâtel Tourism's free walking guide reports that, during a visit in 1668, Charles-Paris d'Orléans and his brother "had wine flow instead of water during public festivities."

---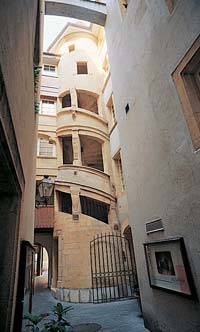 The Passage des Corbets is typical of the closed passages or courtyards that are hidden behind Neuchâtel's medieval houses. This passage and its Renaissance spiral staircase are located between the Croix-de-Marché and the Place des Halles in the old town.
---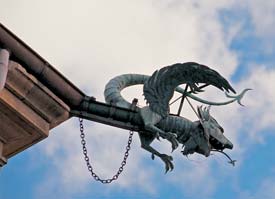 A gargoyle protrudes from the gutters of a Neuchâtel roof.

---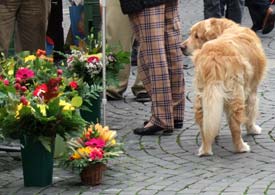 A dog admires the merchandise at a florist's stall in the Place des Halles, where a public market takes place on Tuesday, Thursday, and Saturday mornings.
---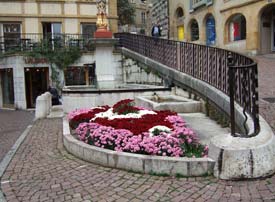 Not far from the Place des Halles, a cobblestoned street winds uphill toward the Castle and the Collegiate Church.
---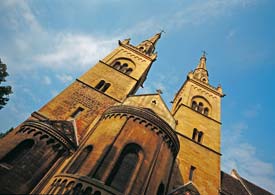 The Collegiate Church was built in the 12th and 13th centuries, with the spire and north tower added in 1869. It became Protestant in 1530, when the Reformation came to Neuchâtel.
---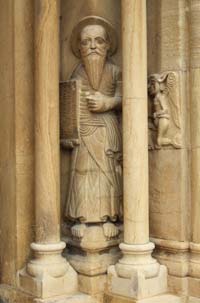 Parts of Neuchâtel's Collegiate Church and the adjacent Château are from the Romanesque period.

---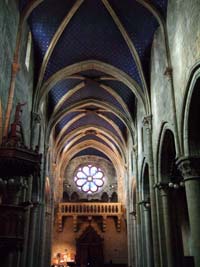 The interior of the Collegiate Church has its original Gothic ribbed vaulting. The blue ceiling is decorated with gold stars.
---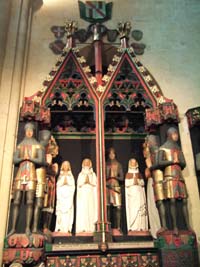 A cenotaph in the Collegiate Church has polychrome stone carvings from the 14th Century. The statues represent the Counts of Neuchâtel and various knights and ladies.
---
---
---
---