Neuchâtel, Switzerland
Page 5
Continued from page 4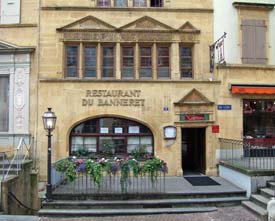 ABOVE: The Restaurant du Banneret.
Restaurants in Neuchâtel
It's always difficult to single out restaurants in a town of 30,000, especially if one has dined in only a handful. Still, several restaurants in Neuchâtel are worth pointing out:
The Hôtel DuPeyrou is located in an 18th Century mansion that doubles as an official reception and banquet venue for the city of Neuchâtel. The kitchen is excellent, the atmosphere is elegant, and prices are in line with the gastronomy and decor.
The Café des Halles is on the ground floor of the Maison des Halles, a 16th Century house that overlooks the public market. The atmosphere is cozy in the dining room (which has a beamed ceiling and wooden tables), and you can eat outdoors in good weather. Prices are moderate, service is friendly, and the food is satisfying.
I haven't tried the Restaurant au Bâteau, but I hope to on my next visit to Neuchâtel. It's a converted lake steamer in the harbor, where lake perch (a traditional dish of the region) are among the local specialties. The Brasserie Le Cardinal is another restaurant in an historic setting.
Next page: Neuchâtel photos
---
---
---
---
>