Pilatus Photo Tour
Page 2
Continued from page 1

The ascent by cogwheel train begins on the grassy slopes above the Mt. Pilatus Railway station in Alpnachstad.
---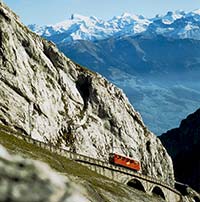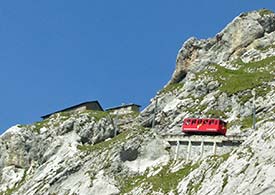 As the train climbs toward Pilatus Kulm, the gradients get steeper and the landscape becomes rockier.
---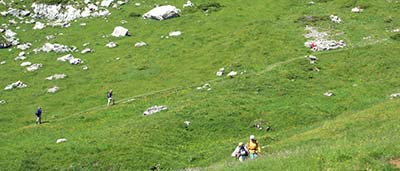 From the cogwheel train, you can see hikers trudging up the mountain. (The top of Mt. Pilatus is 2123 meters or 6,965 feet above sea level.)
---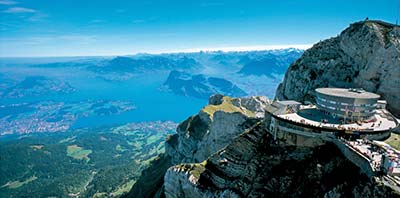 After a 30-minute trip, the cogwheel train arrives at the Pilatus-Bahnen railroad and cablecar station, which is underneath the the round building shown above. From the viewing terrace, you can look out and see the multiple arms of the Vierwaldstättersee and the city of Lucerne.
---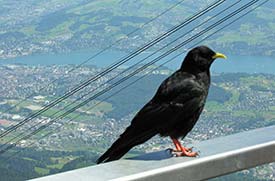 You'll share the viewing terrace with the local birds, which like to sit on the railings when they aren't soaring in the mountain breezes.
---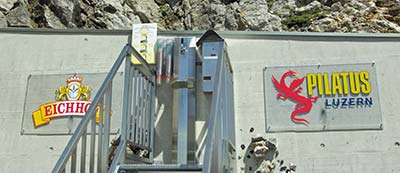 If it's a hot summer day, you'll probably be thirsty. Not to worry: The last time we checked, the Eichhof brewery had a self-serve, coin-operated beer dispenser next to a waterfall above the viewing terrace. (See what the waterfall does when you fill your plastic cup with beer made from the waters of Mt. Pilatus.)
---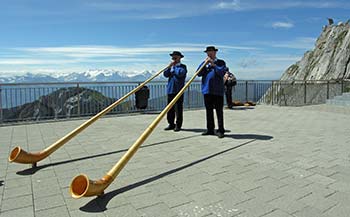 While you sip your beer, you can watch any special events that may be going on. (These Alphorn players were entertaining tourists on a Sunday in late June.)
---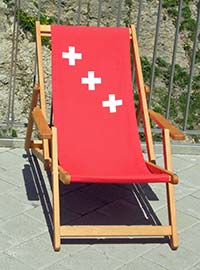 If the combination of altitude and alcohol has made you dizzy, look for a chair on the viewing terrace. (The folding deck chairs are popular with the sun-worshipping Swiss, who apparently continue to believe that ultraviolet rays are good for one's health.)
---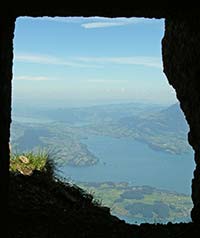 When you've had your fill of sun (or beer), head for the underground galleries near the viewing terrace. Windows have been carved into the stone, offering dramatic views in several directions.
---
---