Pilatus Photo Tour
Page 3
Continued from page 2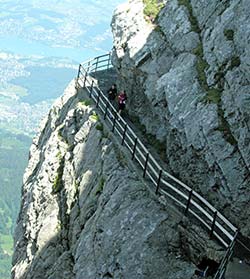 Pilatus Kulm has five well-marked hiking paths that begin on the viewing terrace. Difficulty levels are "easy" or "moderate," and average walking times range from 10 to 35 minutes.
This picture shows a section of trail number II. The 30-minute, moderately steep circular route is a good choice if you have time for only one walk. It takes you north through the tunneled rock galleries, leads you over the top of Pilatus Kulm via the rugged north face (above), and offers good views of the summit ridge on the gently sloping final section.
---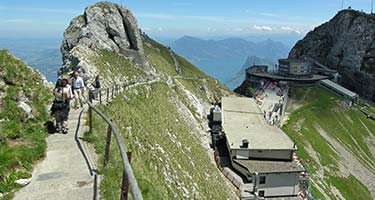 This is the final or southern section of trail number II, which descends from the peak of Chriesiloch to the Hotel Pilatus-Kulm (the building in the foreground) and the viewing terrace. The Bellevue restaurant and the cogwheel train/cablecar station are visible in the distance.
---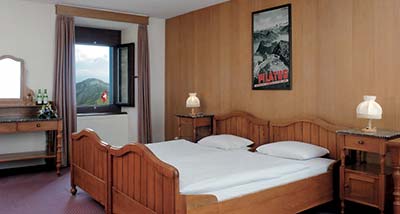 If you're staying at the Hotel Pilatus-Kulm, you can take a nap in your room after you've hiked the five summit paths. The hotel opened the year after the Mt. Pilatus cogwheel railway began operating.
The Hotel Pilatus-Kulm's guestrooms were renovated in 2010. Today, all 27 rooms and three suites offer private facilities.
---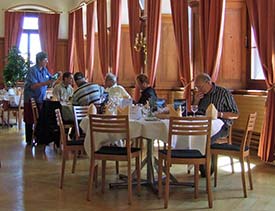 These pictures are from the Queen Victoria Saal, a banquet room at the Hotel Pilatus-Kulm. The lower photo shows an impromptu concert by a Männerchor, or men's choir, who were lunching at the hotel during a group tour.
---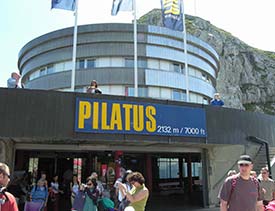 The Pilatus-Bahnen station at Pilatus Kulm is at the opposite end of the viewing terrace from the Hotel Pilatus-Kulm, beneath a circular building from the 1960s.
---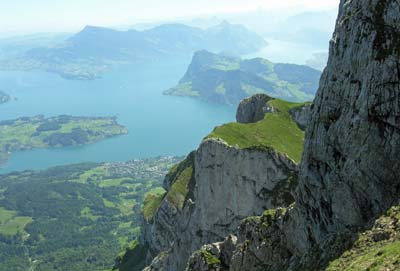 From the viewing terrace next to the Pilatus Kulm station and the Hotel Bellevue, you can look out at the Vierwaldstättersee (a.k.a. Lake Lucerne).
---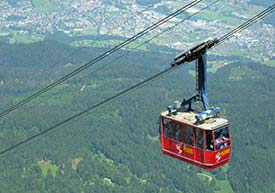 You'll also see the Mt. Pilatus Seilbahn, or aerial cableway, which opened in 1956 and was rebuilt in 1983. The Seilbahn has two cabins, each with a capacity of 40 passengers.
---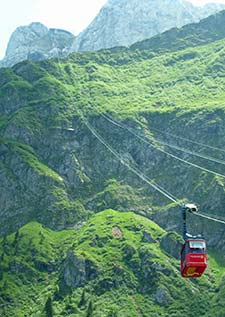 The aerial cableway requires only 5 minutes for the trip between Pilatus Kulm and Fräkmüntegg, which lies 647 meters or 2,123 feet below the station on top of the mountain. Unlike the cogwheel railroad, which runs only from May to November, the Seilbahn operates year-round.
---
---