Pilatus Photo Tour
Page 4
Continued from page 3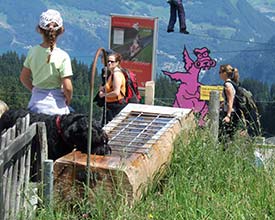 At Fräkmüntegg, you'll find a restaurant, a water fountain with a trough for your dog or cow (shown above), and recreational activities that are popular with both tourists and residents of nearby Lucerne.
---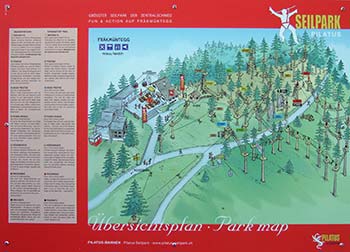 The Seilpark Pilatus is one of the main attractions at Fräkmüntegg, with seven different aerial rope courses in the forest near the cablecar station. Each trail has a minimum age and height requirement that ranges from 8 years and 120 cm (47 inches) to 11 years and 140 cm (55 inches). Maximum weight per visitor is 120 kg or 264 lbs.
---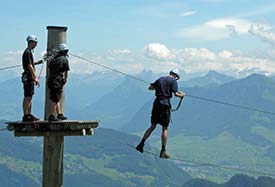 Prices at the Seilpark Pilatus include equipment rental and basic instruction on a training trail.
Each trail has six to 11 stations, and you'll have a chance to try activities such as climbing log-and-rope ladders, walking on cables, traversing rope-suspended log bridges, and speeding through the treetops on a zip line. (On the highest-rated course, Draconita, "stamina and icy nerves are a must!")
---

Nearby, the Fräkigaudi Rodelbahn is Switzerland's longest summer toboggan run, with a length of 1,350 meters or 4,429 feet. You reach the starting point by walking uphill from the cableway station.
---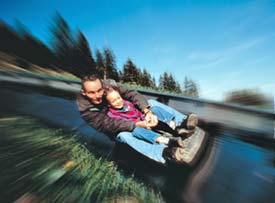 One- and two-passenger sleds are available (the latter for adults with small children).
Tips for riding Europe's longest summer toboggan course:
On the downhill run, don't get too close to the toboggan ahead of you, and heed the braking signs.
Control your speed by pushing the lever forward to go faster and pulling it toward you to slow down.
At the end of the trip, sit back and relax: You'll get a great view from the sled as you're towed uphill to the top station. (The towline is attached to the back of your sled, so you'll be facing the valley and Lake Lucerne.)
---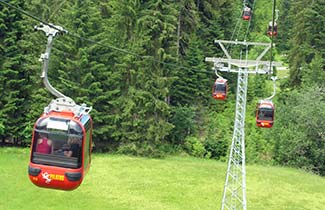 When you've had your fill of thrills, take an aerial panorama gondola from Fräkmüntegg to Kriens. The lift system, which was opened in 1954 and modernized in 1996, has 132 four-person cabins and an elevation difference of 889 meters or 2,917 feet between the upper and lower stations.
If you wish, you can stop over at the intermediate gondola station in Krienseregg, which has a free children's adventure playground called PILU-Land that was built in 2007 at a cost of 350,000 Swiss francs.
---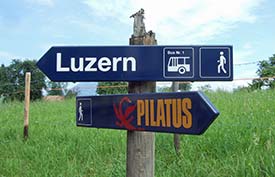 When you reach Kriens, follow the "Lucerne" signs to the "Linde-Pilatus" bus stop, where the No. 1 bus departs every six minutes for the Lucerne railroad station. The ride takes only 15 minutes and is free to holders of the Swiss Pass, Swiss Flexi-Pass, or Swiss Youth Pass.
---
---