Europe > Switzerland > Wengen
Wengen, Switzerland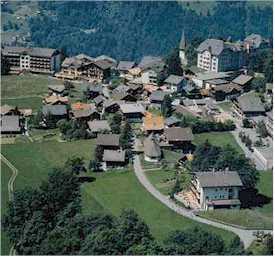 ABOVE: Wengen, with the Männlichen in the background.
"Wengen, situated amidst meadows dotted with trees, below the precipitous Tschuggen, with a view of the Lauterbrunnen Valley and of the Jungfrau and other mountains to the S., is much visited as a health-resort and for winter-sports."
So said Karl Baedeker in the 1911 edition of his Switzerland guidebook, which went on to list some two dozen hotels (a few of which are still in business under their original names). Wengen, like other villages in the Jungfrau district, has been popular with English-speaking tourists for more than 150 years, and it's hard to imagine a better location for an alpine holiday.
For starters, Wengen is a car-free resort. The only vehicles on the roads are farmers' tractors and the motorized carts that deliver goods to hotels and shops from the container terminal in the Wengernalp Bahn's railroad station. That's probably just as well, because the scenery is so spectacular that you could step in front of a car while gazing up at the surrounding alps or peering into the Lauterbrunnen Valley, more than 1,500 feet (474m) below.
Although Wengen is one of Switzerland's premiere ski resorts (and host of the famed Lauberhorn ski races), it's even more appealing when the mountain slopes turn green, cows graze in the high meadows, and walkers can enjoy the vast network of well-marked hiking paths that connect Wengen with other villages in the region.
For example, the hike from Wengen to Grindelwald takes only a few hours--and you can stop at Kleine Scheidegg for lunch or a snack along the way. What's more, if you get blisters, you can always catch the next train, since the WAB's cogwheel locomotives cover the route between Lauterbrunnen, Wengen, and Grindelwald at least twice an hour during the main summer tourist season.
Where to stay
Booking.com: Wengen our partner
Europe's leading secure reservations platform features hotels, hostels, and apartments in all price ranges. Its detailed listings include photos, ratings, and reviews by paying guests.
What do do
Besides hiking, there are plenty of things to see and do in Wengen and its surrounding area. Possibilties include:
Männlichen aerial cablecar.
Trümmelbach Falls.
Staubbach Waterfall (near Lauterbrunnen).
Wengernalp (where you can watch avalanches on the Jungfrau during summer).
Lake steamer rides on the Thunersee and Brienzersee near Interlaken.
Excursions to Interlaken, Thun, the Swiss Open-Air Museum at Brienz, or the Swiss capital of Bern with its parliament buildings and bear pits.
Getting to Wengen
By train. Wengen is served by the Wengernalp Railway (WAB), whose cogwheel locomotives and narrow-gauge carriages take about 22 minutes to reach Lauterbrunnen from the Interlaken Ost railway station, then spend another 14 minutes climbing the mountainside to Wengen.
Interlaken is easy to reach via Bern, Lucerne, or Brig if you're coming from the Zürich or Geneva airport.
To check timetables and fares, use the interactive journey planner of Swiss Federal Railways.
By car. If you're driving, you'll need to park your car in Lauterbrunnen, then take the train to Wengen. Reserve your spot online (at least during high season), and watch for parking signs as you approach Lauterbrunnen.
Web links:
Tourist information
Wengen
Plan your trip at Wengen's official tourism site. (The site will default to winter or summer, depending on the time of year.)
Transportation
WAB: The world's longest cog railway
The Wengernalp Bahn provides cogwheel rail service between Lauterbrunnen, Wengen, Kleine Scheidegg, and Grindelwald. It's been around since 1893 and was electrified more than a century ago. (Note: This is an informational article for railfans. For travel information, use the Swiss Federal Railways journey planner.)
Männlichenbahn
In five minutes, this aerial cablecar whisks you from Wengen to a mountain hotel, restaurant, and cafeteria with panoramic views and a sun terrace.
Jungfraujoch Railway europeforvisitors.com
Europe's highest railway is also one of the most expensive, but our article tells how to minimize your costs.