Wilhelm Tell Express
Lucerne - Vierwaldstättersee - Gotthard - Ticino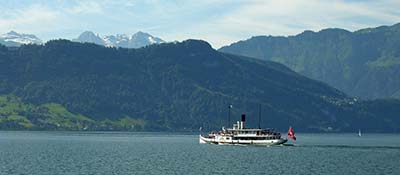 PHOTOS: The Wilhelm Tell Express itinerary has two sections: a cruise by paddlewheel steamer between Lucerne and Flüelen, and a crossing of the Alps (via the Gotthard Tunnel) on a first-class train with panorama cars.
Archived article (The Wilhelm Tell Express is no longer operating.)
By Durant Imboden

Switzerland is famous for its express trains, such as the Glacier Express between Zermatt and St. Moritz and the Bernina Express between Chur and Tirano, Italy. The Wilhelm Tell Express brings a unique twist to the scenic express-train theme, however: It combines a transalpine railroad journey with a nearly three-hour voyage by boat on two Swiss lakes.
The Wilhelm Tell Express runs from the beginning of May until late October, with two southbound and two northbound departures per day.
The all-first-class trip includes the Vierwaldstättersee (also known as the Lake of the Four Forest Cantons or Lake Lucerne), the rugged Urisee (Lake Uri, home of the William Tell legend), the famous Gotthard Tunnel through the Alps, the castle city of Bellinzona (a UNESCO World Heritage site), and the sunny valleys of Ticino, Switzerland's only Italian-speaking canton.
Both ends of the express route have good connections with major cities: Lucerne is only about 45 minutes from Zürich, and Lugano is roughly 1½ hours from Milan. Locarno, the southern terminus of the Wilhelm Tell Express, offers a connection to the Centovalli Railway, which runs between Lake Maggiore and the Italian town of Domodossola, where you can change for the Centovalli Express to the French- and German-speaking alpine resorts of Canton Valais in Switzerland.
Next page: More Wilhelm Tell Express lake-steamer and train photos
---
---
>