Bernina Express
The Glacier Express may be more famous, but Switzerland's Bernina Express is that train's equal--or better--when it comes to spectacular scenery. In his guidebook for Alpine train travelers, Switzerland by Rail, Anthony Lambert writes:
"This line is the highest rail crossing of the Alps, helping to make it one of Europe's outstanding train journeys. Where else can you travel from glaciers to palm trees in two hours? In summer open-air cars enable passengers to experience the views and glorious air without the interference of glass, making it perfect for photographers. The climb is made even more astonishing by the fact that it is achieved without rack assistance [cogwheels], compelling the builders to devise tortuous loops and spirals to gain or lose height. Sit on the right."
The Rhaetian Railway's Bernina Express offers a choice of two routes:
Chur-St. Moritz-Tirano (or reverse)
Chur-Davos-Tirano (or reverse)
Schedules vary by season, with extra trains in summer. Check the official timetables (see links on next page) and book in advance, since seat reservations are mandatory.
When you reach Tirano, you have several choices:
1. Explore the palm-shaded town center briefly or have a quick lunch, then return to St. Moritz or Chur on the westbound Bernina Express.
2. Catch the connecting bus for the three-hour road trip to the Swiss city of Lugano.
3. Continue on to Milan via Sondrio and Lecco, Italy by train. Travel time is about 2½ to 2¾ hours.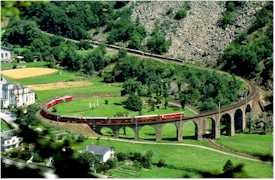 ABOVE: The Bernina Express on the spiral viaduct at Brusio.
Sightseeing
The Bernina Express is only one of several trains each day that cover the 38 miles (61 km) between St. Moritz and Tirano. This makes it possible to stop off along the way to hike or enjoy the local sights.
The most popular stopover is Bernina Diavolezza near Pontresina, where you can ride a cable car to a spectacular view and summer hiking or winter skiing. A mountain hotel, the Berggasthaus Diavolezza, has basic accommodations and a restaurant.
The town of Poschiavo in the Poschiavo Valley is also worth a visit if you have time.
Tirano, at the end of the line, has plenty of monuments to interest the tourist, including the Sanctuary of the Madonna di Tirano.
General Information links
Rhätische Bahn
See the Rhaetian Railway's Bernina Express pages for information, photos, and a timetable.
SBB CFF FSS Timetable
Plan your train trip with the easy-to-use Swiss Federal Railways timetable, fare guide, and online order form.
Swiss Rail Passes switzerlandforvisitors.com
Save money with the Swiss Pass, Swiss Card, Swiss Half-Fare Card, and other special deals for rail, bus, and boat travelers.
Photos
Rhaetian Railway - Bernina Line - Pictures
Railfans will appreciate these photos of locomotives and rolling stock.
Photos © Swiss-Image.ch.