Swiss Chocolate Train
Montreux-Oberland-Bernois Railway (MOB)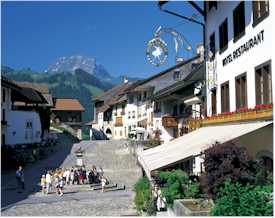 ABOVE: The Swiss Chocolate Train stops in Gruyères for cheese on its way to the Cailler-Nestlé chocolate factory at Broc.
By Durant Imboden
Switzerland is famous for its chocolate and its railroads. Put them together, and you get the Chocolate Train--a first-class-only excursion train operates from Montreux between May and October.
The Chocolate Train runs on tracks of the Montreux-Oberland-Bernois Railway (MOB). Coffee and croissants are served on the train, which offers scenic views of vineyards and bucolic countryside on its way to the medieval cheesemaking town of Gruyères.
In Gruyères, the train pauses for an excursion by bus to a cheese factory and the local castle. Then you board the train again for the trip to Broc, home of the Cailler-Nestlé chocolate factory, where you can watch a multilingual video, observe chocolate production, sample the finished product, and buy Cailler or Nestlé candy bars at factory prices.
The train then returns to Montreux, a pleasant resort town on Lac Léman where you can also visit the Castle of Chillon.
Practical information:
The Chocolate Train normally leaves Montreux at 8:44 a.m. and returns at 4:15 p.m.
If you have a Swiss Pass, you'll get a discount on the fare.
For detailed and up-to-date information, or to book tickets for the Chocolate Train, see the links below.
Chocolate Train link:
Chocolate Train - GoldenPassLine
The MOB's official Web site has information, photos, and a downloadable brochure in PDF format.
Also see:
Chocolate Museums of Europe europeforvisitors.com
Our article has information about the Callier-Nestlé chocolate factory at Broc.
Emmentaler and Gruyère Cheese europeforvisitors.com
If you think "Swiss cheese" is a pale rubbery substance in a plastic packet, it's time to sample the real thing--preferably at the source.