St. Mark's Basilica is the leading tourist attraction in Venice after the Piazza San Marco, and for good reason: It's a riot of Byzantine architecture, with spectacular gold mosaics and enough plundered sculptures and other relics to thrill the most jaded aficionado of the Christian Crusades. (As a bonus, admission is free.)
In The World of Venice, Jan Morris has this to say about Venice's Catholic religion and cathedral:
"The church in Venice, though, is somehing more than all things bright and beautiful. It is descended from Byzantium, by faith out of nationalism; and sometimes to its high ritual in the Basilica of St. Mark there is a tremendous sense of the Eastern past, marbled, hazed, and silken. St. Mark's itself is a barbaric building, like a great Mongolian pleasure pavilion, or a fortress in Turkestan: and sometimes there is a suggestion of rich barbarism to its services too, devout, reverent and beautiful though they are."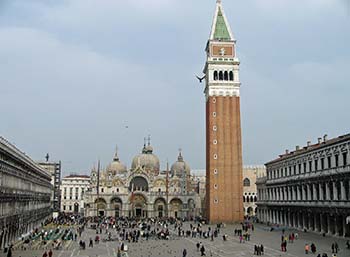 ABOVE: St. Mark's Basilica faces the Piazza San Marco, just behind the Campanile (bell tower) and next to the Doge's Palace. TOP INSET PHOTO: St. Mark, his retinue of angels, and a winged lion (click thumbnail for a larger image).

If bones are barbaric (as they may seem if you're a relic-phobic Protestant), the Basilica's "rich barbarism" may be due, in part, to the reason for its existence. The Basilica was constructed as a home for the bones of St. Mark the Evangelist, whose remains were stolen from Alexandria, Egypt by two Venetian merchants who smuggled the saint's bones past Muslim customs officials by stuffing them into a barrel of pork in 828 AD. After 200 years or so in temporary quarters, the Evangelist's bones were moved to the new Basilica di San Marco (the third church on the site) in the 11th Century.

Interestingly enough, the Basilica didn't become Venice's cathedral until 1807, after many hundreds of years as a chapel and state church under the authority of the Doges of the Venetian Republic. Several popes have served as Patriarch of Venice, most recently Pope John XXIII and Pope John Paul I.
The official Basilica di San Marco Web site has more details on the church's history, art, and architecture.
For information on touring the Basilica (and avoiding long lines), see our visitor information on the next page. For more pictures, see the captioned photos on page 3 of this article.