Venice > Shopping > I Tre Mercanti
I Tre Mercanti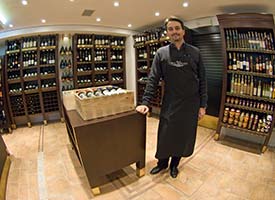 ABOVE: Roberto Caruti, manager of I Tre Mercanti, spent nine years with Gucci before he and his two partners opened their upmarket wine and food shop near the Piazza San Marco in Venice.
By Durant Imboden
In a city where the word "shopping" is normally associated with Murano glass, Carnival masks, and the Venetian outposts of name-brand Italian fashion designers, I Tre Mercanti ("The Three Merchants") is a welcome anomaly. The upscale shop offers a handpicked selection of wines and gourmet foods that change with the season--and which can be taken home in a suitcase or shipped abroad, making the store a prime shopping destination for foodies from afar.
I Tre Mercanti is the brainchild of Roberto Caruti, a longtime Gucci employee, and two friends--one an executive with an Italian company on the Venetian mainland, and the other a leading glassmaker on Murano. Signor Caruti explains how the store came about:

"I was working for Gucci in England, and one day I was talking on the phone to Andrea della Valentina in Murano. We were discussing how hard it was for visitors to find really good Italian foods, and I suggested the idea of a beautiful shop with the best Italian wines and foods and the kind of service you'd find at a store like Gucci."
It wasn't long until Caruti and his two friends had formed a partnership and were visiting growers, culinary artisans, and trade fairs throughout Italy.
Over the next two years, they tested thousands of foods and wines, eliminating about 90 percent of the candidates before negotiating supplier agreements with vendors who'd made the cut.
The partners also found a great store location on the border of San Marco and Castello, just a few blocks north of the Basilica and Piazza di San Marco. After a major (and expensive) renovation of its new quarters, I Tre Mercanti opened for business in 2007. It's well worth a visit, whether you're shopping for gifts or looking for mementos of Italy that you can enjoy after--and even before--you go home.
Next page: Wines, foods, and culinary gifts
---
---