Venice attracts some 20,000,000 tourists a year. Add in a local population of 55,000, and you're talking about a big appetite for groceries.
Since the year 1097, Venetians have depended on the Rialto markets for their daily supplies of fish, vegetables, fruit, and other foodstuffs.

The markets are open to the public, and there's no better show in town. Stevedores unload crates of produce from barges; vendors hawk their wares; restaurant chefs examine the daily supply of fish, crustaceans, and bivalves; delivery men push handcarts laden with fruit and vegetables.
Elizabeth David, the cookbook author, portrays the Rialto markets as a visual feast:
"The light of a Venetian dawn is so limpid and so still that it makes every separate vegetable and fish luminous with a life of its own, with unnaturally heightened colours and clear stencilled outlines

"In other markets, on other shores, the unfamiliar fishes may be vivid, mysterious, repellent, fascinating, and bright with splendid colour; only in Venice do they look good enough to eat. In Venice even ordinary sole and ugly great skate are striped with delicate lilac lights, the sardines shine like newly-minted silver coins, pink Venetian scampi are fat and fresh, infinitely enticing in the early dawn."

Elizabeth David, Italian Food
It's best to arrive early if you want to see the Erberia (vegetable market) and Pescheria (fish market) in full swing. The barges start arriving at dawn, and the vendors are bargaining with customers by 8 a.m. The wholesalers and most of the retailers close up shop by midday (or 1 p.m. at the latest), so stock up on fruit and photo opportunities before lunch!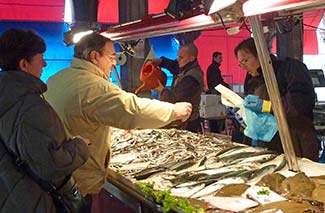 Reaching the Rialto markets
Vaporetto lines on the Grand Canal stop at Rialto, on the left bank of the Grand Canal. From the waterbus platform, head for the Rialto Bridge. Cross the bridge, then dive into the mass of people and stalls on the opposite bank. Work your way to the right, and you'll encounter the Erberia along the water. The Pescheria is farther along. Go through the archway at the far end of the Erberia, then continue past the Fabbriche Nuove to the Campo della Pescaria.
Note: The Erberia and Pescheria are open Tuesday through Saturday. (Locals suggest not ordering fish in restaurants on Mondays, because the Pescheria is closed on Monday and the fish is unlikely to be fresh.)