Santa Marta Pier
River ships and other smaller vessels often use this pier between Venice's Marittima ship basin and the San Basilio cruise terminal.
Note: This map is temporarily unavailable for technical reasons.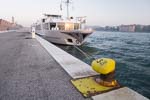 ABOVE: Santa Marta is west of the San Basilio cruise terminal (right) and east of the Marittima cruise basin (far left). You can zoom and drag the map to change views.
River ships, such as Uniworld's La Venezia and CroisiEurope's Michelangelo, usually begin and end their cruises at the Santa Marta pier. (Other small ships also use Santa Marta from time to time.)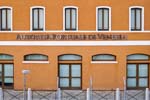 This pier is located just west of the San Basilio cruise terminal, in a separate fenced-off area immediately in front of the Venice port headquarters building and IAUV, Venice's architecture and design university.
Santa Marta can be reached by taxi (the port gate is just above the word "Santa" in our "Santa Marta" label on the map). Alternatively, you can arrive at the Santa Marta or San Basilio ACTV waterbus stop (blue boat icons) and walk a few minutes to the port gate.
Hotels: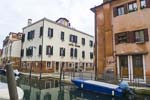 If you're walking, the most convenient hotels for Santa Marta are the three-star Hotel Tiziano ("H" icon near top of map) and the four-star Hotel San Sebastiano Garden (to the right of the Tiziano and above the San Basilio cruise terminal).
If you're arriving or departing by taxi, any hotel near the Piazzale Roma will be convenient. (The Piazzale Roma is where buses and taxis from the airport discharge and pick up passengers in Venice.) From the Piazzale Roma, it's only a few minutes to the Santa Marta pier by cab.
---
---