For many foreign visitors, flying to Italy means booking a ticket to Milan or Rome. And that's a shame, because Venice's Marco Polo International Airport (VCE) is often a more convenient gateway.
Why? Distance to the city center is one reason. The Piazzale Roma is just 20 minutes away by land taxi or airport bus, and the Lido, the Piazza San Marco, and other locations in the historic center are easy to reach via the Alilaguna airport boat.
Marco Polo Airport is also more manageable in size than its counterparts in Milan and Rome, although it can feel like a Third-World airport if you're departing on a weekend or on a day when thousands of passengers have been disgorged by cruise ships.
Consider yourself fortunate if you arrive or depart on a clear day, when views from the air can be breathtaking. You'll see the Dolomites, the Adriatic, and the Venetian Lagoon. You'll see land that's submerged at high tide, suggesting a Northern Italian version of Atlantis. And if you're on the right side of the plane, you'll see the city itself, with instantly recognizable landmarks like the Campanile di San Marco and the Grand Canal.
Arriving at VCE

If you're renting a car, you'll find rental counters in the arrivals lounge. Other services include free luggage carts, public telephones, baggage storage, toilets, tourist information, hotel bookings, currency exchange, and tickets for local and regional transportation. (Scroll down to our Marco Polo Airport link if you have questions about passenger services.)
For information on ground transportation, see our articles on airport buses, land taxis, Alilaguna water buses, and water taxis. (If you're going into the city by water, don't miss our illustrated directions to the boat piers.)
Warning: If you have a luggage problem, filing a claim can be a frustrating experience. Not long ago, one of our suitcases didn't arrive on an Air France from Paris, and we had to stand in line for more than three hours to make a report.
Departures from VCE
If you take the water bus or a water taxi to the airport, leave the pier and take the moving walkway to the terminal building. (Free luggage carts are near the boats.)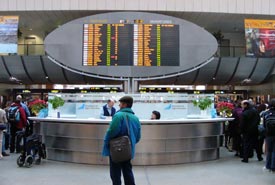 ABOVE: A large screen behind the information desk in the departures terminal tells where to check in for your flight.
Inside the departures lobby, you'll find limited seating and long rows of check-in desks to the left and right of the information counter and security gates. Each counter is assigned to a specific flight (shown on an electronic sign above the counter). If you don't see a counter for your flight, don't panic--it simply hasn't opened yet. (Check-in counters normally open two hours before departure.)
Warning: Like most airport terminals, Marco Polo was designed in an era of less intensive security procedures, and both ticketing and security lines can be horrendously slow during busy periods. On one recent Monday in late October, it took us an hour just to check in. We suggest arriving at least two and a half hours before your flight--or even earlier, if you're departing on a weekend, during high season, or on a transoceanic flight.
More tips:
Some airlines (such as KLM, Air France, and Delta) require you to check in at an automated kiosk or online before taking your luggage to the counter. We like to check in at a kiosk at least two hours before flight time, which ensures that we're near the head of the line when the counter opens.

If you're connecting through another airport and airline to your final destination, you may find that the kiosk will issue a boarding pass only for your first flight. Don't be alarmed: When you take your luggage to the counter, the agent should be able to issue boarding passes for any additional legs of your journey.

Two budget carriers, Ryanair and Wizz Air, operate many of their flights from Treviso Airport (a different airport about 45 minutes to an hour from Venice, which is served by two Treviso Airport bus lines).

Once you get through security, Marco Polo's departures area is quite nice. You'll find bars and cafés, a good assortment of shops, and plenty of seating in an airy, modern, well-lit terminal. (To get away from crowds, take the escalator to the mezzanine, which has more shops, a large cafeteria, uncrowded lavatories, and tables that are handy for eating or using your laptop.)
Baggage storage
Look for the deposito bagagli, or left-luggage office, in the arrivals hall.
Airport Web site
Aeroporto di Venezia Marco Polo
Click the Union Jack for English-language information at the Venice airport's official Web site. If you have questions, see the airport's "Contact us" page.