Venice > Food & drink > Trattoria Pizzeria da Alvise
Trattoria Pizzeria da Alvise
Archived Review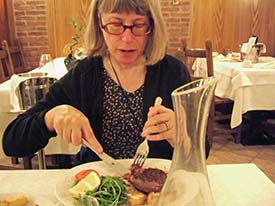 ABOVE: A customer dissects a tender steak at the Trattoria Pizzeria da Alvise.
By Durant Imboden
One of the most welcoming Venetian restaurants that we've sampled is the Trattoria Pizzeria da Alvise on the Fondamente Nuove in Cannaregio. The location is a pleasant change from the tourist-packed areas closer to the Piazza San Marco and the Grand Canal--and in warm weather, the restaurant's outdoor tables supply waterside views of the Venetian Lagoon and boat traffic at the nearby vaporetto and airport-boat stops.
Atmosphere and clientele
Da Alvise has an attractive interior with plaster walls, wood paneling, and brick detailing. Tablecloths add a touch of elegance, and the friendly but professional waiters contribute to the restaurant (as opposed to pizza parlor) ambience.
The restaurant's clientele is eclectic: During our two visits, we saw Italian couples and families, well-dressed tourists from several countries, and a group of gondoliers.
Whether you're ordering a simple pizza margherita or a three-course meal, you can expect to be treated with courtesy and kindness. (At the end of our first dinner at Da Alvise, we were treated to complimentary sgroppini, even though we'd gone the inexpensive pizza route.)
Menu and prices
Da Alvise has an extensive menu of Venetian and Neapolitan dishes. The house mixed salad is the best that we've had in Venice (where green salads tend to be boring), and the penne with tomato and chili sauce has earned praise from the authors of the Chow! Venice restaurant guide. Da Alvise also does a fine job with steaks (see photo at top of page), and--like many restaurants in Venice--it offers a good range of piatti secondi for seafood fans.
Prices are moderate: We spent just under €30 for pizza and drinks one night, and about €60 for a more elaborate dinner when we came back three days later.
Tip: It's a good idea to book ahead, especially at dinner or on weekends. We managed--just barely--to get a table twice without reservations, but our second visit required a half-hour wait for seating. (We now reserve whenever we visit the Trattoria Pizzeria Da Alvise, just for our peace of mind.)