Venice Vacation Apartments
When to consider a self-catering holiday rental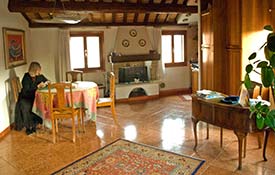 ABOVE: Cheryl Imboden enjoys the living room of a short-term rental flat in Cannaregio.
By Durant Imboden
If you're staying in Venice for more than a few days, renting a furnished apartment can be a pleasant alternative to staying in a hotel. Still, a self-catering flat isn't right for everyone, so weigh the pros and cons before making a decision.
Pro:
You'll get more space for your money. A comfortable one-bedroom apartment typically costs no more than a double room in a three- or four-star hotel, but you get a bedroom plus a living room or seating area, a kitchen, a dining table, and (often) a washer for your clothes. If you're traveling with a family, an apartment becomes an even better value, because you can rent a two- or three-bedroom apartment for much less than the cost of two or three hotel rooms.
You can save money by eating in. Even if you enjoy dining out, it can be fun--and economical--to have breakfast and the occasional lunch in your apartment. Just as important, you can pick up prepared food at a supermarket and skip going to a restaurant when you're tired or want to get away from other tourists.

You can enjoy the fantasy of living in Venice. For a week or two, you'll be an ersatz expat or a virtual Venetian as you come home to your apartment when other tourists are going back to their hotels.
---
Looking for a vacation apartment with no added "service fees" or "guest fees"? Our partner, Booking.com, has you covered. Click or tap here for listings with photos and reviews by paying guests.
---
Con:
You'll have to make your own beds. Your apartment will be cleaned before you arrive, but you'll normally be responsible for do-it-yourself housekeeping and dishwashing during your stay. (You might even need to put sheets on the bed.) Many landlords require you to do at least a perfunctory cleaning before departure or pay a cleaning fee.

Check-in can be a hassle, since hardly any Venice apartments have keyless entry. Typically, you'll need to meet the landlord or a rental agent at the apartment building or the nearest vaporetto stop, and you'll need to do it at an appointed time. (Departures are usually easier: Often, you can simply leave the key in the apartment or drop it in the owner's mailbox when you leave.)
Booking and payment can be complicated, especially if you're dealing with direclty with landlords or local rental agencies. Some owners and agencies accept payment by credit card or PayPal, but others require you to send a deposit by international bank draft with final payment in cash. The latter can be a nuisance if you're arriving from abroad and your ATM card won't let you withdraw 700 or 1,000 euros in cash at the airport. Also, deposits are often non-refundable--unlike hotel reservations, which usually can be cancelled on short notice without penalty. (Online reservations platforms like Booking.com, VRBO, and Airbnb can reduce the booking hassle significantly.)

Tip: Be sure to have euro banknotes and coins when checking in, since landlords are required to collect the city's tourist tax.
Bottom line: In general, we'd recommend staying in an apartment if you're in Venice for at least three or four days, like being on your own, and don't mind a bit of inconvenience when booking and checking in.
For more information on short-term holiday flats, including apartment hotels and serviced rentals, see Booking.com's Venice apartment listings. (It's worth noting that, unlike some of its rivals, Booking.com does not add a hefty "service fee" to the rental rate.)
Disclosure: Booking.com is our affiliate partner, and we receive a small commission on referrals.