Venice > Transportation > Water taxis
Venice Water Taxis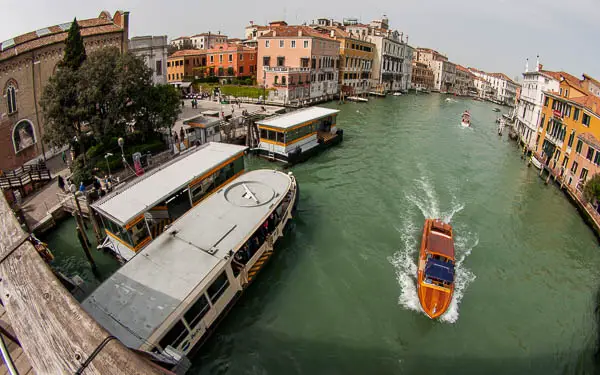 ABOVE: A water taxi speeds up the Grand Canal toward the Accademia Bridge (where this photo was taken).
Typical Venice water taxi fares in 2023:
Airport to city (or vice versa): €130 and up
Within the city center: €70 and up
Water taxis are the limousines of Venice: With their spacious leather-upholstered cabins, open-air seating in the stern, and private captains to chauffeur you up the Grand Canal or on a high-speed run between the airport and your hotel, they offer an experience that you won't forget in a hurry.

Unfortunately, you won't forget the price in a hurry, either: The fare between Marco Polo Airport and a hotel or apartment in central Venice starts around €130, depending on location.
A trip within the historic center can easily cost €70 or more, depending on distance, time of day, and whether you've hired the water taxi at a pier or requested an aquatic cab by telephone.

Still, water taxis can hold up to 10 people, depending on the size of the boat, and the cost per person can be reasonable if you're splitting the fare with family or friends.
Water taxis are also faster than public airport transportation, since you don't have to transfer to a vaporetto or walk a long way to your hotel when you arrive in the city. (Figure 25 to 30 minutes for the trip between Venice Marco Polo Airport and a waterside hotel in the city center.)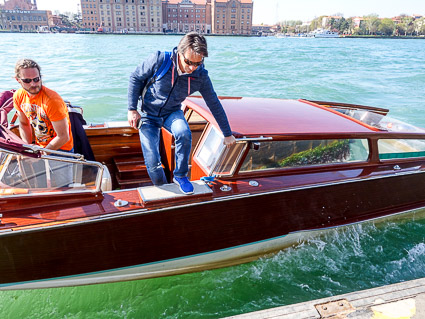 ABOVE: A passenger gets ready to disembark from a water taxi near the San Basilio cruise terminal.
How to hire a water taxi
At Venice's Marco Polo Airport, you'll find water-taxi ticket booths in the arrivals hall, after you've left baggage claim. (Look for the counters labeled "Speed Boat to Venice.")
After you've bought your voucher, leave the terminal and take the moving sidewalk to the boat piers. (See our step-by-step directions with photos.)
Another option is a shared boat shuttle, which is considerably cheaper than a private water taxi but double the price of the Alilaguna boat.
At the Venice Santa Lucia Railway Station, the Piazzale Roma, and the Tronchetto parking island, water taxis are down by the water.

You can book water taxis online at the Consorzio Motoscafi Venezia Web site, or by phoning the Consorzio's dispatchers during business hours. (Phone numbers and hours are on the Consorzio's home page.) The Consorzio Motoscafi Venezia is a cooperative of water-taxi operators, with a fleet of more than 100 boats at its disposal.
Warnings and advice:
If you hire a water taxi through your hotel concierge or a travel agent, ask for a fare quotation before booking. Mark-ups can be outrageous. (We've heard of American travel agents charging US $150 per person for an airport transfer by water.)

Licensed water taxis have a yellow stripe with a license number. Be cautious in dealing with unlicensed taxi operators (especially on the parking island of Tronchetto, where crooks posing as "official" water-taxi drivers prey on unsuspecting tourists).

Many hotels and apartments are a good distance away from canals that allow water taxis, and you may find yourself having to schlep your luggage over a bridge or two between the boat's landing point and your hotel. You may find it simpler to pick a hotel near public transportation.
If you're getting a bit creaky or aren't used to small boats, be aware that boarding or disembarking from a water taxi at high or low tide can be tricky. You may need to jump into the boat or haul yourself up onto the pavement.

At locations where mooring poles block water taxis from touching the side of the canal, you'll need to step or spring across a gap between the boat and dry land. And in some cases, you may need to disembark onto mossy (and slippery) stone steps.
If you're handicapped (but are able to get in and out of a water taxi), you're entitled to a 20-percent fare reduction.

Tipping isn't required or expected.
Water taxi video clips:
---
---