Venice > Planning > Public Wi-Fi network
Venice Public Wi-Fi Network
Cittadinanza Digale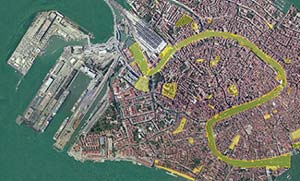 ABOVE: A screen capture from the Comune di Venezia's interactive Wi-Fi map. The areas highlighted in green (such as the S-shaped Grand Canal)  have wireless signals. INSET BELOW: Wi-Fi antennas above a city street.
By Durant Imboden
Many travelers find it hard to live without Wi-Fi these days. Being able to connect to the Internet with a notebook, netbook, or smart phone is obviously handy for travel planning, and--just as important--avoiding data-roaming charges with an iPhone, or using Skype with a laptop, can make it cheaper to keep in touch with home.
Where to find Wi-Fi in Venice:

In Venice, most hotels offer free Wi-Fi, and--if you're lucky--you may run across a bar or café that will supply you with a guest name and password when you buy a drink.
Alternatively, you can use the Comune di Venezia's "Cittadinanza Digitale" public Wi-Fi network. Advance-purchase rates for visitors were €5 for 24 hours,  €15 for 72 hours, and  €20 for seven days when we last checked. (To get these discount rates, you'll need to sign up in advance. Note, too, that you can use only one Wi-Fi device at a time with your connection.)
For more information, see Venezia Unica's Wi-Fi page.
Please note:
Venice's Cittadinanza Digitale Wi-Fi network doesn't cover the whole city: Service is available primarily in the major squares, or campi, on a few major pedestrian thoroughfares like the Zattere and Via Garibaldi, and along the Grand Canal. Zoom in on the official map to see access points in the historic center, on the Lido di Venezia, and on the mainland.