Venice > Shopping > Carnival masks
Venice Carnival Masks
Also see: Venice Carnival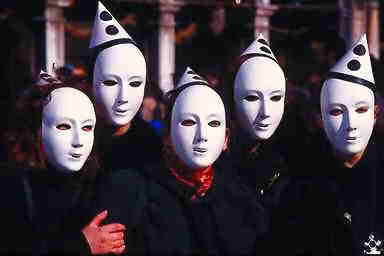 By Durant Imboden
Carnival masks are the hallmark of il Carnevale di Venezia. Venice's Carnival began in the 11th Century, and the wearing of masks and costumes was well established by 1436, when maskmakers or mascareri were officially recognized with their own guild.
The practice of wearing masks for disguise reached its zenith in the 18th Century, when Venetians of different social classes used Carnival as an excuse to mingle and, in some cases, to trade sexual favors without fear of recognition or retribution. (With a mask, a silk hood, a tabarro cape and a tricorn hat, a housewife in search of hanky-panky was indistinguishable from a nobleman on the prowl.)
Masks virtually disappeared--along with Carnevale--when Napoleon's troops brought an end to the Venetian Republic in 1797. However, they've staged a spectacular comeback since a group of former Academy of Fine Arts students opened Venice's first modern mask shop in 1978.
Venice Carnival masks fall into several categories:
Commedia dell'Arte masks are based on traditional characters like Harlequin and Pierrot.

Fantasy masks are figments of the maskmaker's imagination, although they may be inspired by historical designs.

Traditional Venetian masks such as the white volto half-mask with nose cover and its variant, the "plague doctor's" mask with its phallic beak. (According to tradition, the beak was intended to protect the wearer from being infected by the plague.)
---
ABOVE: Beaded mask, using glass beads from the island of Murano. Elisabeth Vedrenne, author of Living in Venice, reports that the Baroness Nella Lopez y Rojo is the only remaining practitioner of this craft.
---
Today's Venetian masks serve two functions: as vehicles for self-expression and self-display during Carnevale, and as souvenirs or craft objects to take home as souvenirs of a Venetian trip.
Masks are easy to obtain in Venice. Street vendors sell them (especially at Carnival time), and you can buy anything from mass-produced paper or ceramic miniatures from China to handcrafted papier-mache and leather masks by skilled local artisans.
If you're serious about buying a quality mask, you should visit one of the workshops where masks are made on the premises. Here are two that come highly recommended by the shopping experts:
Mondonovo
Rio Terra Canal
Dorsoduro 3063
Tel. 287 344
Frederic Vitoux, author of Venice: The Art of Living, says that Mondonovo "makes masks that are replicas of the old models, but also fills your most fanciful orders." (The shop is located near the Campo Santa Margherita and the Ca' Rezzonico stop on vaporetto line No. 1.)
Laboratorio Artigiano Maschere
Barbaria delle Tole
Castello 6657
Tel. 522 3110
This shop is near the SS Giovanni e Paolo church, inland from the Ospedale vaporetto station. It's one of the oldest maskmaking studios in Venice, and its owner comes from a family of puppetmakers. See page 3 for a link to a Web photo page that shows masks being made here.
Also visit the Web site of Tragicomica, a highly-regarded costumer and maskmaker.
Related articles
Venice Carnival
This three-page article offers historical background, practical information, and Carnival photos. It also has links to official and unofficial Carnival Web sites.
Venice Carnival Dates
Plan your trip to the Carnevale di Venezia with this calendar.
Venice Master Artisans
This remarkable large-format, 272-page book has 210 color photos and 30 profiles of artisans who use traditional techniques to make a variety of crafts--including carnival masks.
---
---
---