---
Venice Gifts and Souvenirs
By Durant Imboden
Shopping for a Bottega Veneta handbag or a Missoni jacket is likely to be fun, if you can afford it, but what about choosing inexpensive souvenirs and gifts to haul back home? Do you settle for a plaster-of-paris gondola, a mass-produced Carnevale mask, and a Zippo cigarette lighter engraved with the Lion of St. Mark?
If kitsch isn't your cup of tea, try these gifts and souvenirs on for size: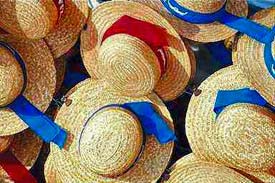 ABOVE: Gondolier hats may be obvious, but they can actually be practical--even back home.
Gondolier hats
Make fun of these straw hats if you wish, but they're practical on sunny days. They're also attractive. And you can use them as summer hats back home--that is, if you're a woman or own a gondola.
(Sure, a gondolier's hat will make you look like a tourist in Venice--but so what? You are a tourist, aren't you?)
Books, maps, postcards, and prints
The larger bookstores carry a large selection of travel books, coffee-table books, and maps, many of which aren't available outside Italy.
Postcards and packets of accordion-fold photo cards are souvenirs that you'll never regret buying. Decades from now, you or your kids will take pleasure in seeing "Venice as it looked then" (which isn't much different than Venice as it looked 200 years ago). Look for postcards in any bookstore, or check the excellent postcard shop in St. Mark's Basilica.
Art prints, posters, and wall maps make wonderful gifts and souvenirs. My favorite is a large, full-color poster version of the aerial photo map titled Venezia forma urbis from Editore Marsilio, which we found in a Venice bookstore.
Be sure to buy posters rolled up and packed in a tube for easy carrying, or wait until you get home and order them from the AllPosters online catalog of Venice prints and posters.
Games and puzzles
Venetians have been designing and playing games of various types since the heyday of the Venice Republic, and the tradition continues today. We especially like the (admittedly expensive) wooden jigsaw-model puzzles of such Venetian landmarks as the Rialto Bridge and the Salute Church, which are available at several shops around town.
Murano glass
The glass artisans of Murano produce huge quantities of tourist junk, but they also make inexpensive objects that are tasteful, attractive, and even fun. Glass beads come in many colors, loose or prestrung in inexpensive necklaces. Realistic-looking hard candy (complete with mock paper wrappers) can be placed in a bowl, displayed on a windowsill, or used as Christmas-tree ornaments. Miniature fishbowls or aquariums cost a little more, but they make perfect gifts for the ichthyologist who has everything.
You'll find a huge assortment of glass objects and jewelry in shops all over Venice. If you're heading for nearby Murano: the glass island, you can do your souvenir-hunting in the many shops along the island's central canal.
See captioned photo: Marfil
Next page:
Stationery, food, household items
---
---
---
---