Venice > Transportation > Venice-Lido car ferry
Venice-Lido Car Ferries
ACTV No. 17 ferry boats from Tronchetto to San Nicolò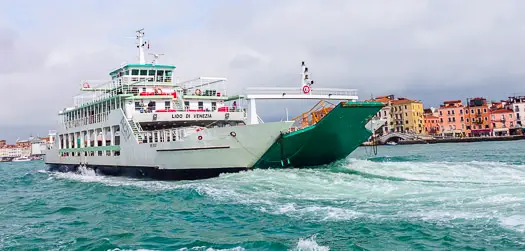 ABOVE: An ACTV No. 17 car ferry cruises down the Giudecca Canal on its way from the Lido di Venezia to Venice's parking island of Tronchetto.
By Durant Imboden
The Lido di Venezia, the resort island that separates the Venetian Lagoon from the Adriatic Sea, is one of the few areas of Venice that allow car traffic. (For more on the Lido, see our illustrated 13-page Lido di Venezia travel guide.)
If you're touring Italy by car and staying on the Lido for more than a few days, it may be cheaper to take your car with you instead of parking at Tronchetto or one of Venice's other public garages and open-air lots.

ACTV Linea 17 is a car and passenger ferry that connects Venice's Tronchetto parking island with the Lido. (It also carries bicycles, which are a great way to travel on the long, narrow island.)
The No. 17 ferry lands at San Nicolò, a few blocks above the Lido's central business district. You'll need to turn right after you leave the ferry and drive through the central area to reach most of the Lido's hotels.
Timetable
The ferry timetable is subject to change, and you may find a hand-lettered list of more frequent departures pasted to the window of the Tronchetto ticket office (as we did when we researched this article).
Rates
The cost of transport depends on the vehicle's size and type. (Bicycles and mopeds are cheap.)
The driver and passengers pay normal ACTV vaporetto fares.
Round-trip (return) rates are double the one-way prices.
You can buy tickets at any ACTV office or ticket agency.
---

---
Reaching Tronchetto

From the mainland, take the causeway toward Venice. Stay in the right lane. Just before you reach the city, you'll see an exit labeled "Tronchetto."

Follow this exit road to Tronchetto, then watch the signs for the ferry. As you near the end of the island, you'll reach the toll booth where you buy your ticket before lining up for the boat.
For more information, visit the English-language Ferry Boat page on the ACTV Web site.
---
---