Venice Vaporetto Fares
What you'll pay to ride Venice's water buses, and what you need to do before boarding the boats.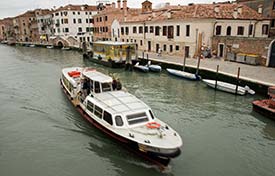 ABOVE: An ACTV motoscafo in the Cannaregio Canal.
---
---
The fares listed on page 2 of this article are for visitors to Venice and its suburbs. Prices for single boat trips are shockingly (some might say "obscenely") high, so consider buying a one- to seven-day Tourist Travel Card, a Venezia Unica pass for long-term visitors and residents if you'll be in the city for a while, or--less desirably--a Venezia Unica pass for tourists.
Better yet, skip the boat and walk, except on special occasions: Venice is extremely compact, and it's often faster to walk from one part of town to another than to take a water bus. See our "Walking in Venice" article for practical advice on finding your way around the city.
For tips on where and how to obtain tickets, see our articles about Buying Vaporetto Tickets and ACTV Ticket Machines.
Important:
You must validate tickets before use.

Look for the white electronic card reader near the walkway that leads to the floating vaporetto platform. (Some stations also have green card readers that cannot be used to validate tickets.)

Hold your ticket within 6 cm (about 2.5

inches)

of the circular panel for three seconds, or until you see a green light and hear a beep. At some stops, a gate or turnstile will open when you validate your ticket.
If you're at a vaporetto stop without a ticket counter or machine, buy a ticket from the boat conductor as you board to avoid a fine. (On land, purchase bus/tram/People Mover tickets at ticket machines, Hellovenezia/ACTV offices, or at the nearest tobacconist.) Warning: We've had reports of ticket inspectors ignoring the ACTV's published policy and fining tourists who tried to buy tickets upon boarding, so we strongly recommend going out of your way to buy a ticket on land to avoid ripoffs.
An ordinary single waterbus ticket is good for 75 minutes in one direction, which means you can transfer as long as you aren't headed back toward your starting point.

As we point out in the fare tables, children under 6 ride free, but kids 6 and over must pay the full adult fare.

On water buses, you're allowed to carry one piece of luggage with a combined length, width, and height of 150 cm (60 inches) or less, plus a smaller backpack, purse, or other personal item. For more luggage, or for a bigger bag, you may need to pay a supplement. Ask the agent in the ticket booth or the boat conductor as you board.
The Venezia Unica city pass for long-term visitors and residents (formerly imob.venezia) is worth the steep non-resident fee if you're staying in Venice for a while, since it offers huge discounts on public-transportation fares.
Money-saving tip:
Venice is a compact and walkable city, and you shouldn't need to use the vaporetto often unless you have trouble walking, are pressed for time, or are going to an island (such as the Lido or Murano) outside the historic center. Our advice: Walk when you can, and organize your schedule to make the most efficient use of a tourist travel card.
Checking fares:
The Water and Land Bus Fare Tables on page 2 show what you'll pay for single tickets, carnets, and Tourist Travel Cards.
Next page: Water and land and bus fare tables
---
---
---