Venice > Food & drink > La Zucca
La Zucca
Restaurant review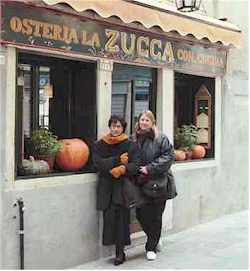 ABOVE: Helga Gross and Juli Van Zyverden (see below) pose outside Zucca after a pleasant lunch.
By Durant Imboden
Vegetarian restaurants are hard to find in Venice, once you've eliminated pizza from your list of menu choices. And while Osteria La Zucca isn't a vegetarian restaurant, it's a great place for anyone who likes vegetables--if only because Zucca's chefs turn common garden-variety ingredients like carrots and eggplant into works of culinary art.
The restaurant
Zucca is a small restaurant with just two rooms and a total seating capacity of 30 to 35 customers. (In warm weather, outdoor tables add space for a few more guests.) The atmosphere is modern with slatted wood tables and walls. Wine racks add to the cozy ambience, and an attractive display case in the front room lets you see what dishes are being served.
The food
Zucca is owned by three partners who take turns cooking. The chefs (and menus) vary from one day to the next, so it's hard to recommend any one specialty. On the day that I lunched at Zucca with Helga Gross of the @home/ Mitwohnzentrale apartment-rental agency and our friend Juli Van Zyverden, some of the choices were:
A vegetarian lasagne made with raddichio and mushrooms

Fennel with tomato

Pumpkin flan

Curried carrots in yogurt

Rabbit and chicken dishes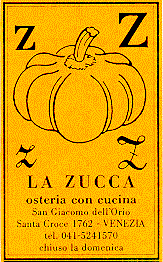 Zucca's prices are comfortably midrange by Venetian standards. If you can resist the temptation to sample everything in the display case, you should be able to keep the cost at a reasonable level.
Note: Like most Italian restaurants, Zucca has a modest pane e coperto charge for bread and cutlery. This shouldn't be confused with a service charge, and you should tip as you normally would unless you see an item for servizio on your bill.
Finding your way
Zucca is in Santa Croce, and you should run across it as you approach the Campo San Giacamo dell'Orio from the Grand Canal. The area is a rabbit's warren of tiny streets, so your best bet is to find your way to the church and wander around until you stumble upon the restaurant.
If you're coming by vaporetto, take the No. 1 water bus to the San Stae or Riva di Biasio stop. Head inland with a good map in hand, and allow extra time for getting lost if you've made a reservation (as you should, due to the restaurant's limited seating space).
Need a map?
See Zucca's official map, which will help you identify the restaurant's location once you've found your way to the Campo San Giacomo dell'Orio.
Osteria La Zucca
San Giacomo dell'Orio
Santa Croce 1762 - Venezia
Italy
Tel. 041-52 41 570
La Zucca Web Site

For a more up-to-date review, read:
Chow! Venice
Shannon Essa and Ruth Edenbaum have written a lively, informative guide to Venetian restaurants, bars, and cuisine.