Venice > Treviso
Treviso, Italy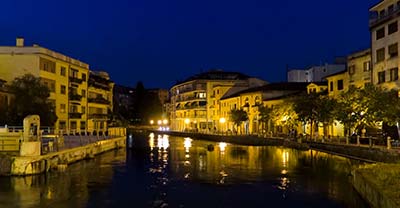 ABOVE: A nighttime view of the River Sile in Treviso.
By Durant Imboden
Treviso, Italy is best-known to foreign tourists as a budget-airline gateway to Venice. Several low-cost airlines, including Ryanair and Wizz Air, fly in and out of Treviso Canova Airport (TSF), which is about 25 miles or 16 miles from Venice. (Other airlines use Venice's Marco Polo Airport.) Frequent Treviso Airport Buses make it easy to reach Venice at a reasonable cost.
However, there's a lot more to Treviso than cheap air travel. The prosperous town has about 83,000 inhabitants plus another 90,000 in the vicinity, and it's the world headquarters of Benetton.
Treviso's history goes back at least 2,000 years, and the city center is filled with narrow streets, historic monuments, upscale shops, and a number of canals that feed into the River Sile (photo above). It's a delightful small city, and you'll enjoy spending a night or two in Treviso even if you aren't flying in or out on a budget airline.
---
---
---