Skansen Open-Air Museum, Stockholm
Page 6
Continued from page 5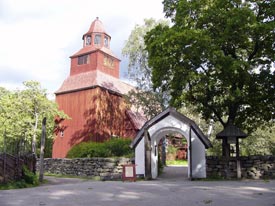 Skansen photo gallery
The next 18 pages are an album of pictures with captions, some taken by me and others by Skansen's own photographers. This gallery is just a brief introduction to the historic buildings, animals, and other attractions at Skansen. We'll start with:
Seglora Kyrka
The Seglora Church (shown above) is from Västergötland, in Central Sweden, where it was built in 1730. The tower was added in the 1780s. The kyrka has been at Skansen since 1916, where it has become a popular venue for weddings and organ concerts.
---
---
---
"Best of the Web"
- Forbes and The Washington Post
---

Need a car in Europe?
If you live outside the EU, a tax-free tourist car lease can be cheaper than renting for visits of 21+ days. Other benefits:
Minimum driver age is 18.
No upper age limit.
100% insurance coverage.
Wide range of cars, vans, and SUVs.
To compare vehicles and rates, see:

Renault

Peugeot
For car rentals under 21 days:

Auto Europe
---
---
Traveling by train?
Get free schedules, maps, and guides for 50+ European railroads. (Residents of North and Central America can buy tickets and rail passes online.)

Rail Europe