Zeppelin Museum Friedrichshafen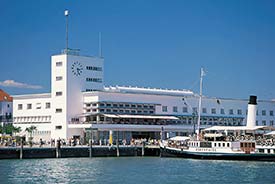 ABOVE: The Zeppelin Museum is on Friedrichhafen's waterfront promenade, facing the harbor on Lake Constance (a.k.a. the Bodensee). INSET BELOW: A 1908 Zeppelin, and a replica of the Hindenburg's interior.
By Durant Imboden
Today, most people regard Zeppelins as a short-lived phenomenon that ended with the explosion of the Hindenburg in Lakehurst, New Jersey in 1937. In reality, the rigid aluminum-framed airships were in service for nearly 40 years, with their development culminating in the sister ships Hindenburg and Graf Zeppelin II, which carried up to 50 passengers and a crew of 40 in transatlantic service between Germany and the United States.

The first Zeppelin, the LZ1, had its maiden flight over the Bodensee (Lake Constance) in 1900--some three and a half years before the Wright Brothers flew their way into history in North Carolina. Scores of Zeppelin airships were subsequently built by Count Ferdinand von Zeppelin's company, which was based in Friedrichshafen, Germany on the lake's northern shore. The Zeppelin era came to an end in 1940, when the German government had the airships broken up for scrap metal.
Today, the Zeppelin's technology and history are on display at the Zeppelin Museum Friedrichshafen, which occupies the city's restored Hafenbahnhof (Harbor Railway Station) from the 1930s.
The museum's exhibition space (43,000 square feet or 3,995 m²) offers historic photos, objects, artworks, a movie theatre with a Zeppelin documentary, and--most important--a partial life-size replica of the Hindenburg. This simulated airship has a cutaway hull section, passenger cabins, and public rooms that suggest what it was like to enjoy a three-day transatlantic crossing at a cost of 1,000 Reichsmark (about €30,000 in today's currency).
Next page: Visitor information, Web links
---
---
---
Photos copyright © Stadt Friedrichshafen.

"Best of the Web"
- Forbes and The Washington Post
---
---

Need a car in Europe?
Auto Europe guarantees the lowest rental rates for standard cars, sports cars, SUVs, luxury cars, chauffered sedans, and RVs. Its Web site also has driving information for 38 countries.

Auto Europe
If you live outside the EU, a tax-free Renault or Peugeot tourist lease can be cheaper than renting. Minimum driver age is 18, there' s no upper age limit, and rates include insurance.

Short-Term Car Leasing
---
Traveling by train?
Rail Europe
has free schedules, maps, and guides for 50+ European railroads.

Rail Europe
---

Hotel discounts in Germany:
Booking.com is the world's top booking service, with 23,000+ hotels in Germany. Reserve now at low rates and pay when you stay.

Search for Hotels in Germany
---