Heidelberg Funicular
Heidelberger Bergbahn
From: Heidelberg, Germany
By Durant Imboden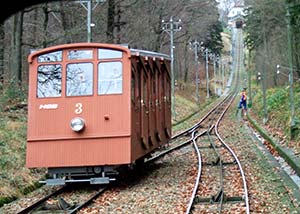 ABOVE: The upper section of the Heidelberger Bergbahn. INSET BELOW: Maintenance workers collect leaves from the tracks in early December.
By Durant Imboden

I
n 2007, the
Heidelberger Bergbahn
celebrated its 100th year of providing service between the Kornmarkt, in Heidelberg's Altstadt, and the Königstuhl, or "King's Chair," with its spectacular views and activities such as the Märchenparadies (a fairy-tale park for children) and the Tinnunculus Falknerei (where you can see falconry demonstrations year-round). The lower section of the funicular, which runs underground from the Kornmarkt to the Schloss or castle, is even older: It opened for business in 1890, with service to the castle and to the settlement of Molkenkur.
Today, the completely renovated funicular consists of two parts:
The underground stretch from Kornmarkt to Molkenkur, which has all-new cars and a tunnel with the latest fire-safety technology (see next page);

The longer above-ground stretch from Molkenkur to Königstuhl (shown above), which uses antique cars with modern working parts.
Like most funiculars, the Heidelberger Bergbahn has two cars that travel in opposite directions and pass each other at the midpoint of their ascent or descent. The total length of the system is just over 1.5 km. Travel time is 2 minutes from the Kornmarkt to the Schloss, 5 minutes to Molkenkur, and another 9 minutes to Königstuhl after changing to the vintage funicular at Molkenkur. The funicular runs daily from 9 a.m. until late afternoon in winter and until mid-evening in summer. Ticket prices depend on how far you're traveling, and on whether you want to stop along the way.
Getting married? You can exchange wedding vows on the historic Königstuhl section of the Heidelberger Bergbahn. (See the English-narrated movie on the Bergbahn's Weddings page, then "ride your ticket to happiness on the cable railway" and "ascend to the seventh heaven of love.")
For more information on riding the funicular or taking your vows on the trip up, visit the Heideberger Bergbahn Web site and click the Union Jack or American Flag icon for English text.
Next page: More Heidelberg Funicular photos
---
---
---

"Best of the Web"
- Forbes and The Washington Post
---
Advertisement:
---
Partner ad: