Munich Hotels and Hostels Directory
From: Munich, Germany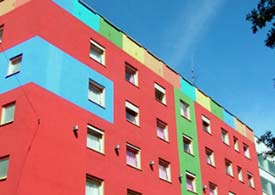 ABOVE: The colorful fašade of the Hotel 1st Creatif Elephant in Munich.
Click the accommodations links in the navigation table below to find information on hotels, youth hostels, vacation apartments, campgrounds, and other places to stay in Munich, Germany.
In a few cases, hotel links will take you to pages from our booking partner for Munich, Venere, which offers discount rates on European hotels. (When you visit those pages, look for ratings and reviews by clients who have stayed at the hotels.) We've also linked to properties that aren't represented by Venere.
For an even larger selection of places to stay, use the Best Hotel Rates comparison tool from HotelsCombined, which draws in data from 30 different booking sites. This tool is especially useful if you want to compare rates for a specific hotel.
---
---
---