Cresta Run, St. Moritz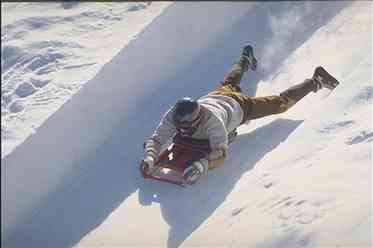 ABOVE: A rider brakes by sliding back on the sled and digging in his toe cleats.
By Durant Imboden
To most people (especially in North America), the word "toboggan" evokes memories of flat-bottomed wooden sleds bouncing down a snow-covered hill in a neighborhood park. At the Cresta Run in St. Moritz, Switzerland, the term has an altogether different meaning: it's used to describe a steel "skeleton sled" that may reach speeds of nearly 80 mph (129 km/h) over its 3/4-mile or 1.2 km course from St. Moritz to the neighboring village of Celerina.
A Victorian legacy
The Cresta Run had its beginnings in the autumn of 1884, when George Robertson and Charles Digby-Jones of the British winter residents' Outdoor Sports Committee* staked out a course from above the Hotel Kulm to the outskirts of Celerina. When the snows arrived in November, the five committee members went to work. Their labors are described in The Cresta Run 1885-1985, the centenary anniversary book that Roger Gibbs wrote for the St. Moritz Tobogging Club:
With their boots swathed in coarse bandages they linked arms and trudged their way time and again along the line that had ben staked out until the snow was trampled down for the frost to harden. The building of the banks was an even more complicated drawn out and complicated affair and all in all it took almost nine weeks to build the first Cresta Run. With the help of endless carrying of buckets the Run was iced throughout.
In early January, the new Run's builders invited the British community in Davos, Switzerland to send over ten tobogganists for a "Grand National" competition, thereby starting a racing tradition that has been broken only by two World Wars.
Olympics Note: At the 1928 Olympic Winter Games in St. Moritz, skeleton tobogganing was an official sport: a distinction it hasn't enjoyed since, perhaps because Cresta-style tobogganing--like Swiss wines--is best enjoyed within Switzerland's borders.
A century of evolution
As the years passed, the Cresta Run's toboggans evolved from tall wooden sleds of the classic European design into low, streamlined platforms designed to reduce wind resistance and provide greater stability in tight corners. The riding technique also changed from sitting upright to lying face down with the head forward, using body position and toe cleats to control direction, speed, and braking. (The sliding seat was added in 1902, but some of today's fastest riders are again using fixed sleds.)
Nowadays, the Cresta's skeleton toboggans resemble mechanics' creepers with steel tubing underneath. Athletic "tobogganers" in sleek wet suits and crash helmets grasp handles near the front of the sled, lying flat or pushing themselves upwards as necessary to negotiate the straightaways and treacherous curves of a course that drops 514 feet (157 meters) and has an average gradient of 13 per cent. A skilled toboganner can finish the 3/4-mile run in less than a minute, for an average speed of more than 45 miles (72 kilometers) an hour.
* Robertson (an Australian), chaired the committee, whose other members included Digby-Jones, W.H. Bulpett, J. Biddulph, and C. Metcalfe.