Layover in Zürich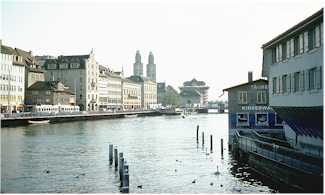 ABOVE: Zürich's Limmat River, looking in the direction of the lake, with the Grussmünster's towers in the distance..
Zürich Airport is a major European gateway, and many travelers change planes in Zürich on multi-segment intercontinental flights. I often receive e-mails from readers who ask, "What can I do in Zürich during a four- or five-hour layover?" Here's my answer, which you can print out and carry along the next time a change of planes leaves you with time to kill in Zürich.
See how much time you have.
If you have four hours between flights, you should have plenty of time for a trip into the city. The train trip takes only 10 minutes, but you might have to wait 10 or 15 minutes for a train in each direction. For safety's sake, allow 1-1/4 hours for the roundtrip, plus enough time for security and boarding (and for check-in, if you don't already have a boarding pass for your next flight).
TIP: If you're short on time, skip a city excursion and catch a local train to nearby Oerlikon, a Zürich suburb where you can have a snack, visit the shops, or walk around and see how the Swiss live before returning to the airport.
Take a train.
In Zürich Airport, take the escalators downstairs to the underground railway station. There, you can buy a roundtrip ticket to Zürich Hauptbahnhof (the main railroad station) and catch a train into town.
Walk up the Bahnhofstrasse.
The Bahnhofstrasse is Zürich's answer to Fifth Avenue and Wall Street combined. It's lined with upscale stores, banks, tearooms, and investment firms. You'll find many other shops, restaurants, and department stores in the streets on either side. (The twisty streets to the left of the Bahnhofstrasse are fun to explore when you aren't in a hurry.)
To reach the Bahhofstrasse, take the escalator to the railroad station's underground shopping mall (ShopVille) and come up the Bahnhofstrasse escalator on the other side of the Bahnhofplatz. The Bahnhofstrasse lies straight ahead. Walk all the way to Bürkliplatz at the far end for a view of Lake Zürich. During the warmer months, you can rent a paddleboat or go for an excursion on a lake steamer.